Feature: Pampering pets common but bad, say critics
While some pet owners say that they love their pets like children and treat them accordingly, animal rights activists criticize too much pet-pampering as wasteful and even detrimental to relationships between pets and humans.
Tsai Ming-chih (蔡明智) and his wife were inspired by a trip to Japan with their fox terrier and Daschund to start a travel agency that specializes in taking owners and dogs on holidays together.
"My wife and I never got to leave the country at the same time after we got married because we didn't want to leave our dogs behind in a kennel," he said. "In the end, we decided to take our dogs along with us to Japan instead."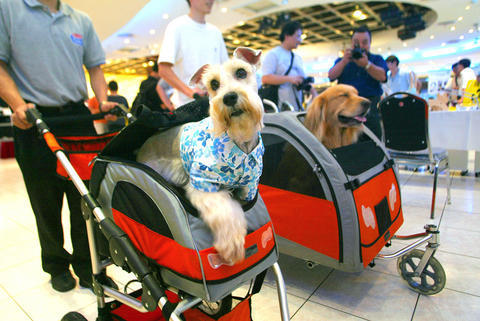 People bring their pets to a press conference at Taipei's Y17 youth center on Wednesday. The event is being held to promote the annual 10th AquaPets Taipei 2007, taking place at Exhibition Hall 3 of the Taipei World Trade Center until tomorrow.
PHOTO: CNA
Although the five-day, four-night trip did not come cheap at NT$60,000 per person plus NT$15,000 per dog, not including the dog's transportation fees at NT$250 per kilogram. Tsai says that his customers are willing to pay for the experience.
"It's not just a holiday where you get to take your dog along," he said. "The whole trip is focused on the dog, and they have more fun than their owners."
Dogs are considered honored guests at specialized pet hotels and other businesses in Japan, according to Tsai.
"The dogs have their own swimming pools and their meals are as carefully prepared as their owners'," said Tsai. "During the day we might take the dogs to theme parks catering specifically to dogs."
There's nothing his customers won't do for their "canine children," Tsai said. He cited two women who went on his tours with their four daschunds.
"They are both quite busy with their careers during the week, so they have a Filipina maid just to take care of the dogs and prepare their meals," said Tsai.
"I've never had a customer with kids," said Tsai. "We find them quite like-minded with us in this respect -- their dogs are treated like their children."
At this weekend's Aqua and Pet Show, owners of rabbits, cats, pigs, flying squirrels as well as many different varieties of dogs brought their pets along to the third hall of the Taipei World Trade Center.
Many of the smaller pets were carried in bags or pushed around in pet strollers.
"It's a practical choice when the ground is muddy or my yorkshire terrier is tired," said one prospective buyer.
According to Amos Lin (林重榮), the general manager of Ibiyaya, a company that sells pet strollers, business has been good despite stagnant wages and a generally depressed retail climate in this country.
The best-selling stroller was available at the show for NT$3,990, said Lin.
However, Sean McCormack, the founder of Animals Taiwan, a stray rescue organization, groaned at the idea of dogs being treated as substitute children or being pushed around in strollers.
"The more you treat a dog like a person, the more behavioral problems you're going to get," he said.
"I think it's great that dogs are increasingly considered a part of the family in Taiwan, but they still need to be treated as dogs, not toys and not children," McCormack said, "The dogs we have the most problems with [at Animals Taiwan] are always the little dogs who might have been carried around in a handbag all their lives."
"The happiest dogs are the ones who are walked every day and allowed to interact with their environment -- not kept at home or pushed around in a pet buggy," he said.
For animal lovers with the extra cash to spend, McCormack suggests using the money to neuter the animals, or donating to animal welfare organizations so that more animals can be cared for.
"For NT$1,000, we could neuter a male dog. For NT$2,000 we could spay a female dog or fix a dog with a broken leg," he said.
Comments will be moderated. Keep comments relevant to the article. Remarks containing abusive and obscene language, personal attacks of any kind or promotion will be removed and the user banned. Final decision will be at the discretion of the Taipei Times.