Groups seek removal of CKS giant
LINGERING GHOST The road to complete emotional healing from the Martial Law era, some argue, passes through the eradication of the symbols of dictatorship
Pro-independence groups yesterday called for the removal of the statue of dictator Chiang Kai-shek (蔣介石) that still dominates the lobby of the National Taiwan Democracy Memorial Hall.
Removal of the statue would be the first step toward lifting the "spiritual martial law," the groups said at a demonstration in front of the memorial hall yesterday.
"Although martial law was lifted 20 years ago, it still exists in the minds of many Taiwanese," said Tsay Ting-kuei (蔡丁貴), chairman of the Taiwan Association of University Professors.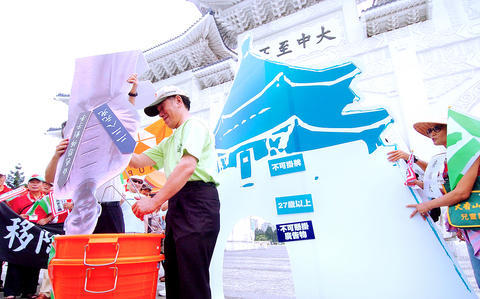 Members of the Taiwan Association of University Professors perform a skit depicting the removal of the statue of Chiang Kai-shek from National Taiwan Democracy Memorial Hall in front of the main entrance yesterday.
PHOTO: CHU PEI-HSIUNG, TAIPEI TIMES
"Chiang's statues can still be found in many public places. We need to clean up all such public places before a complete removal of the spiritual martial law is possible," he said.
The memorial hall, formerly known as Chiang Kai-shek Memorial Hall, was completed in 1980 under the then Chinese Nationalist Party (KMT) regime.
Although the memorial hall was renamed earlier this year, a giant bronze statue of Chiang still remains in the main lobby.
An official from the memorial hall's management office received the demonstrators and accepted a copy of the petition from the groups.
Tsay gave an example of how the "marital law mentality" still existed in Taiwan.
He said that many people they approached were reluctant to sign petitions, "because they fear something, even though nothing would happen to them. That's what I call a martial law mentality.'"
Two young demonstrators at the scene may have exhibited such "martial law mentality," Tsay said, as even though they both agreed to talk to the Taipei Times, they would not give their full names.
The two women, surnamed Lin and Huang, said they both supported the groups' demands and hoped the statue would be "torn down as soon as possible."
Comments will be moderated. Keep comments relevant to the article. Remarks containing abusive and obscene language, personal attacks of any kind or promotion will be removed and the user banned. Final decision will be at the discretion of the Taipei Times.