Bush shakes hands with Joseph Wu
BATTLE AGAINST COMMUNISM Taiwan's top envoy to the US met the US president at a Washington ceremony and received a signed memorial pamphlet
US President George W. Bush shook hands and chatted with Representative to the US Joseph Wu (吳釗燮) on Tuesday while attending the dedication of a memorial to those killed by communist regimes around the world.
Wu was among the roughly 1,000 guests invited to the dedication of the Victims of Communism (VOC) Memorial in Washington.
Bush gave a speech during the ceremony and greeted other guests afterwards.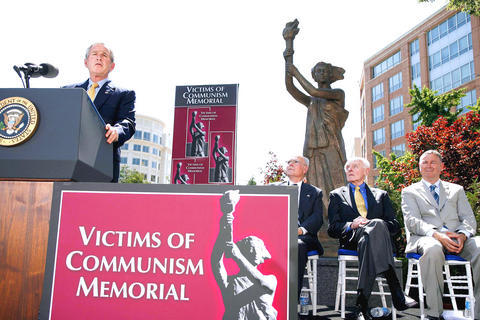 US President George W. Bush speaks at the dedication of Victims of Communism Memorial in Washington on Tuesday. On stage with him, left to right, are Victims of Communism Memorial Foundation chairman Lee Edwards and US representatives Tom Lantos and Dana Rohrabacher. The Goddess of Democracy is a bronze replica of the figure erected by Chinese students during the 1989 Tiananmen Square protests. Representative to the US Joseph Wu attended the ceremony and met Bush afterward.
PHOTO: EPA
Wu introduced himself to Bush by saying: "I'm Ambassador Joseph Wu from Taiwan."
Wu also took the opportunity to thank Bush for his support for Taiwan and said Taiwan firmly supports US efforts to spread the ideals of freedom and democracy around the world.
Bush thanked Wu and said: "It's good to see you here," while tapping Wu's chest with his fist.
He then autographed a VOC Memorial dedication pamphlet and gave it to Wu.
Since the US switched diplomatic recognition from Taipei to Beijing in 1979, Taiwan's representative to the US has had few opportunities to chat or shake hands in public with any sitting US president. Tuesday's brief encounter marked the first face-to-face exchange between Bush and Wu.
The VOC Memorial was more than a decade in the making. The US Congress passed an act in 2003 on the establishment of the Victims of Communism Memorial Foundation to raise funds to build the monument in memory of the more than 100 million people killed by communist regimes -- from China and Soviet Union to Cambodia and North Korea.
Taiwan donated money to the foundation in the name of the Taiwan Foundation for Democracy.
When a groundbreaking ceremony was held last September, then-representative to the US David Lee (李大維) was invited.
Tuesday's dedication ceremony was chaired by Lee Edwards, chairman of the VOC Memorial Foundation; Representative Tom Lantos, chairman of the House Foreign Affairs Committee; and Representative Dana Rohrabacher.
In his speech, Rohrabacher mentioned former US president Ronald Reagan's speech at the Berlin Wall in which he challenged then Soviet leader Mikhail Gorbachev to "tear down this wall."
For his part, Bush said it was time to recall the lessons of the Cold War, namely "that freedom is precious and cannot be taken for granted, that evil is real and must be confronted, and that given the chance, men commanded by harsh and hateful ideologies will commit unspeakable crimes and take the lives of millions."
At the center of the memorial is the figure of a woman holding what Bush called a "lamp of liberty."
"She reminds us that when an ideology kills tens of millions of people and still ends up being vanquished, it is contending with a power greater than death," he said.
Noting that the US was obligated to seek justice for victims of communism, Bush said his administration would continue to promote freedom and democracy in the hope that there will be no more victims of communism.
Wu said that Taiwan, like many other countries, has been a victim of communism and now still faces serious military, security and health threats from communist China.
Because of China's obstruction, Wu said, the health of Taiwan's 23 million people is denied the protection of the WHO.
Taiwan is more than willing to contribute to activities honoring memories and educating current and future generations about communism's crimes against humanity, Wu said.
Comments will be moderated. Keep comments relevant to the article. Remarks containing abusive and obscene language, personal attacks of any kind or promotion will be removed and the user banned. Final decision will be at the discretion of the Taipei Times.