Interview: Taiwan's man in Washington on maintaining relations
Joseph Wu, the first Democratic Progressive Party (DPP) member appointed representative to the US, assumed his new position in April. Wu sat down with Taipei times Staff Reporter Charles Snyder in Washington on Wednesday and shared his objectives for his new job and views on Taiwan-US relations
Taipei Times: Just before he left Washington, your predecessor, David Lee (李大維), told me that one of your main tasks here would be to re-establish or improve trust between Taipei and Washington. Do you agree with that and if so, how can that be accomplished?
Joseph Wu (吳釗燮): I agree with what David Lee said, that trust between Taiwan and the US needs to be restored. But I think that when people think about mutual trust, most think that it comes provided there is restraint on the Taiwanese side. Taiwan has to be prevented from saying or doing something that the US might find difficult to accept.
To me, that's not the accurate or proper way to restore mutual trust.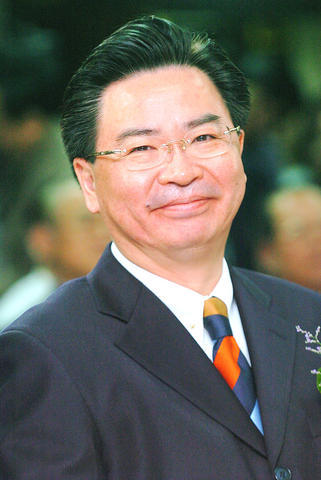 Taiwan's representative to the US, Joseph Wu, smiles in this photo taken on April 12.
PHOTO: CHIEN JUNG-FONG, TAIPEI TIMES
I think the best way is for both sides to understand each other without any filters. When the US says something to Taiwan, we have to understand why they say it, the reasons behind or other things associated with that statement.
When they say what Taiwan does or Taiwan says is not helpful, we need to understand whether there is a discrepancy between what we see and how the US construes what Taiwan is about to do.
So we have to bridge that gap and that is my prime responsibility here: to let the US side understand where Taiwan is coming from. Then I think mutual understanding can be facilitated. Once you have reached mutual understanding, mutual trust will follow.
Before I came to Washington, some people, including American friends in Taiwan, told me that David Lee had done a tremendous job and that he was highly respected. I still hear very flattering comments about him.
I think I have some advantages over him because I am a member of the DPP and I have worked with President Chen [Shui-bian (陳水扁)] since 2002. I would say that I have a much better understanding of the president and a fuller understanding of DPP policies and positions.
TT: Since your arrival here, you have kept a busy schedule meeting US officials and members of Congress. What has struck you about their response to your messages about Taiwan's policies and Taiwan in general?
Wu: Meetings with Congress and meetings with other American friends [refers to Bush administration officials] are different. Congressmen are very busy; they have tight schedules all the time. So meetings with them are usually not very long. Some are very brief encounters in the chambers next to the floor. The meetings with them are mostly sharing information with them, reminding them about or requesting help from them on some issues.
Most congressmen are very supportive of my requests. Whether they are from the Taiwan Caucus or not, most actually appreciate our democracy and will do what they can to support Taiwan.
Meeting with other friends is usually very frank and very constructive. By frank I mean that when we exchange views, we try to do it as frankly as possible. Being frank or straightforward allows for better understanding. We don't hide anything from our counterparts.
When I say that the meetings are mostly constructive, other than the exchange of ideas, there are many issues being tossed around. The two sides are always trying to find ways of working with the other. I have certainly felt that in the past six weeks since I have arrived here.
Cooperation between Taiwan and the US on substantive issues has improved to the extent that I see, on some specific issues, the two sides virtually fighting side-by-side along those issues.
TT: In diplomatic parlance, the word "frank" usually indicates conflict or disagreement.
Wu: When I say "frankness," that does not mean the two sides confronting each other. Instead, it means that we save all the diplomatic jargon and we talk to each other in a frank way, like professors talking to professors.
TT: In your last answer you seem to say that support for Taiwan in Congress is stronger than in the administration of US President George W. Bush.
Wu: I think the support comes in different forms. It is very difficult for me to say that support is stronger in the legislative branch or in other sectors of the US government. I certainly feel, however, that there are many people in Congress who are for Taiwan no matter what. They are 100 percent behind Taiwan and will try to do everything we request them to do -- sign a letter, introduce a resolution and so on.
But at the same time we understand the practicalities in this kind of support, because when it comes to policy-making and policy implementation, it is not Congress that does that.
Ultimately, it is other branches of the government that call the shots.
When it comes to the executive branch, I have visited a wide variety of government institutions to hold talks on various issues ripe for cooperation. I strongly sensed that even though there are specific guidelines for the administration's policies toward Taiwan, deep down, the level of cooperation between Taiwan and the US on substantive policy issues, whether they are on economic, agricultural, scientific or education matters, is very strong.
Even though that level of support oftentimes does not get reflected in the media, many government divisions view their partnership with Taiwan as a very important one.
TT: We understand that some people in the US State Department were not too happy with Chen's teleconference speech at the National Press Club on Tuesday, in which he stated that Taiwan is an independent, sovereign nation and interpreting the Taiwan Relations Act in his own way. What sort of reaction have you heard from the US administration?
Wu: I haven't heard anything from our American friends other than from those who were present at the teleconference.
If our American friends reacted [negatively] to the president's remarks that Taiwan is an independent, sovereign state, it would represent a typical misunderstanding of the DPP.
I was a little surprised to see Americans who, regardless of their support for Taiwan, fail to understand why DPP officials have to say this.
When I say: "We always say that. We say that Taiwan is an independent country,' or `Taiwan is a sovereign state,' or `the Republic of China is an independent sovereign state. That this is the policy of the DPP ever since 2000, and what was being said when President Lee Teng-hui (李登輝) was in power," when I say that in private, people still say this is the kind of statement they do not want to hear.
But we have been saying this for years. When DPP officials say that Taiwan is already independent, I think that's a goodwill gesture to China, that we do not want to challenge the "status quo," with the national title the Republic of China being part of that "status quo."
If the US cannot understand why DPP government officials say that Taiwan is already independent, I think there is going to be a lot of mistrust, or misunderstanding, between the two sides.
TT: The US definition of "status quo," aside from peaceful resolution of any dispute, is in fact that there is one China. US officials have repeated that they don't want any unilateral change in the "status quo," which they usually see as any move toward de jure independence that would aggravate China. So this is a basic misunderstanding of the meaning of the words "status quo."
Wu: I know. If you look at how people try to determine what the "status quo" is all about, you will probably be given five different interpretations by five different people. In other words, the "status quo" is very elusive.
Of course, the US interpretation of the "status quo" and Taiwan's interpretation of it might not be the same. The first official statement on the "status quo" came on April 21, 2004, by former assistant secretary of state James Kelly in his testimony to Congress. There, he said that neither side should change the "status quo" "the way we [the US] define it."
But if you read the whole statement, you will not find anything that represents an accurate or detailed description of how the US understanding or describes the "status quo."
For Taiwan, the "status quo" means reality. Since 1949, the reality has been that the two sides, China and Taiwan, have no jurisdiction over each other. Taiwan has a president, a congress, both of which are among the highest symbols of sovereignty.
Moreover, Taipei has exercised exclusive jurisdiction over the territory under its control. This fulfills the international legal description of an independent state -- and that's a fact.
The only way the "status quo" can be changed is to move toward unification. When we say that Taiwan is an independent state from China, some people feel that is probably something we shouldn't say. But when China says it wants to unify with Taiwan and disregard the will of Taiwanese, we don't see US officials raising their eyebrows or telling Beijing to respect the will of Taiwanese. So it's not fair. And I think the best way ahead for Taiwan and other countries concerned about peace and stability in the region is to ask the Chinese side to interpret the "status quo" based on reality.
TT: It is clear that the US needs China's cooperation in a range of international issues, especially with China's role as a permanent member of the UN Security Council. How seriously does that impact on your job and Taiwan's efforts to prevent the Bush administration from compromising Taiwan's position?
Wu: What we're concerned about is that the US might not pay enough attention to the threat posed by China or to the fact that China is trying to squeeze Taiwan out of the international arena. But some US officials have assured me, on a number of occasions, that they `would never talk to China about how to deal with the Taiwan issue.' I think the most accurate way to describe the US policy on Taiwan is to say that those who are directly in charge of the Taiwan issue have assured us they would not compromise Taiwan's interests in their negotiations with China on other issues.
So, if we can believe those words, then we should probably not worry too much that the US would sacrifice Taiwan's interest in order to win Chinese cooperation on other matters.
But what I am concerned about is that when the US is preoccupied with the six-party talks, Iran nuclearization, Iraq and so on, Washington might not be able to fully grasp the subtle changes that are taking place in East Asia.
For example, the Chinese side has pumped so much money into the Pacific area, to the island countries there, that the Chinese influence has increased tremendously.
In Southeast Asia, the level of Chinese influence has reached an unprecedented level. In the past few years, political leaders in Southeast Asia have adopted the view that associating with China is the surest way to guarantee economic and political success.
China has therefore been taking advantage of a situation where the US is caught with all kinds of crises on its hands to expand its influence on the global stage.
As Chinese influence has increased, Taiwan has been feeling the heat because it cannot compete with China economically or politically.
TT: So, it's basically the US' inability or inattention to countering this rising Chinese influence that accounts for the current state of US-Taiwan relations?
Wu: That's right. Sometimes I feel that the Chinese are very adroit in carrying out policies to support or create problems so that the US will continue to be distracted. If you look at North Korea, one of the prime reasons the regime in Pyongyang has continued to survive has been Chinese support. Where did the North Koreans get their missile technology? The answer is very obvious: China.
If you look at the Iranian nuclear or missile programs, China continues to provide it missile technology, and beginning in the 1990s, North Korea stated providing Iran with nuclear technology. If I am not mistaken, there is documentation that before 2001 there was cooperation between China and Iraq on some weapons programs.
So it would not be difficult for me to draw the conclusion that China is deliberately creating all this, or is trying to prevent all these problems from being resolved, so that the US will continue to be caught up with these crises and therefore allow China to continue to expand its political and economic influence.
Comments will be moderated. Keep comments relevant to the article. Remarks containing abusive and obscene language, personal attacks of any kind or promotion will be removed and the user banned. Final decision will be at the discretion of the Taipei Times.