Aboriginals should join worldwide rights movement
The nation's Aboriginals should become pioneers in worldwide Aboriginal movements, said a Taiwanese Aboriginal delegation that returned from the UN Permanent Forum on Indigenous Issues (UNPII) yesterday.
Seven Aborigines -- including a professor, graduate students and a journalist -- comprised the delegation selected by the Council of Indigenous People to participate in the sixth annual UNPII conference held in New York.
The mission statement on the forum's Web site said the UNPII is an "advisory body to [the UN] Economic and Social Council," which monitors developments related to indigenous peoples worldwide, including cultural, economic, social, environmental and human-rights issues.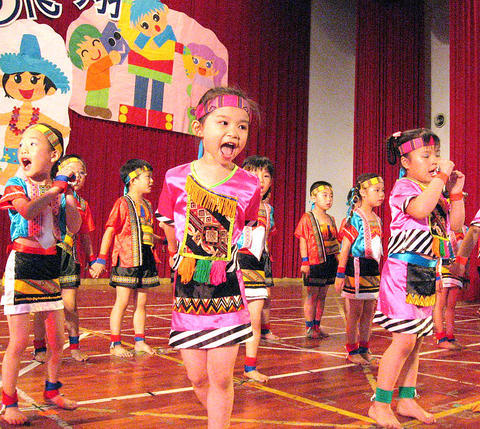 Children wearing Aboriginal clothing dance and sing in Wufeng Township in Taichung County yesterday at an event organized by the township government.
PHOTO: HSIAO SU-MEI, TAIPEI TIMES
The delegation returned to Taiwan yesterday following the close of the two-week forum and held a press conference to share their experience.
Although the nation's Aboriginals are an ethnic minority, the delegation found that the nation's efforts to protect the rights of its Aboriginal population were relatively advanced. As an example, the delegation named the Taiwan Indigenous Television (TITV), which it said was of particular interest to the international Aboriginal community.
"Many people asked about TITV, as it's the first TV station in Asia fully dedicated to an indigenous population," said Lisin Payso, another member of the delegation and a reporter for TITV.
After participating in the forum, delegation members felt that Taiwanese Aboriginals should do more than fight for their own rights.
"Although we're a minority, Aboriginals in Taiwan and in Japan are actually better off than indigenous peoples in many other countries," Kao Ching-yi (高靜懿) said. "We should therefore join others in their struggle for rights."
The delegation also took action on what it said was discriminatory language used by the UN in its translations of official texts into Chinese.
"The official Chinese translation for `indigenous people' used in UN documents is tuzhu (土著), which we find discriminatory," said Awi Mona, one of the delegation members.
Tuzhu implies "uncivilized indigenous people," Awi said.
"Hence, we've filed a petition to the UN High Commissioner for Human Rights to request the change of the Chinese term from tuzhu to yuanzhumin (原住民)," Awi said.
"We can make Taiwan a stage for worldwide Aboriginals," Kao said.
Comments will be moderated. Keep comments relevant to the article. Remarks containing abusive and obscene language, personal attacks of any kind or promotion will be removed and the user banned. Final decision will be at the discretion of the Taipei Times.