Wind turbines show great promise
The number of wind turbines along the west coast is now more than 100 and the renewable energy generated by these units should be sufficient to prevent emissions of 250,000 tonnes of carbon dioxide every year, energy officials said yesterday.
During a ceremony at the Changhua Coastal Industrial Park to promote the use and efficiency of wind power, officials from the Bureau of Energy under the Ministry of Economic Affairs said the 103 giant wind turbines located at 13 wind farms along the west coast can generate 420 million kilowatt-hours of electricity a year -- enough energy to power as many as 105,000 households.
The windmills were established by Taiwan Power (Taipower), the private-run Tien-Lung Paper and InfraVest Wind Power Group, a German company that entered the market in 2000 as the first wind farm builder in Taiwan.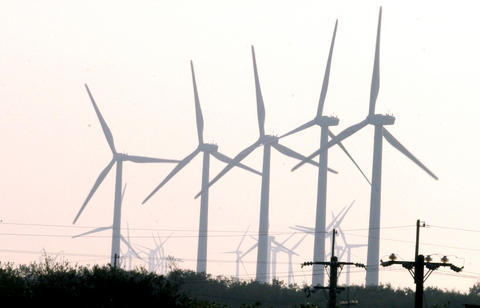 Wind turbines are seen in Guanyin, Taoyuan County, yesterday. Coinciding with International Earth Day, the government announced yesterday that the country now has more than 100 wind turbines capable of producing enough energy to power 105,000 households.
PHOTO: CNA
Officials said that more windmills are under construction in western coastal areas and Penghu, with an additional total capacity of 500 megawatts.
Each unit will cost at least NT$100 million (US$3 million) to build.
They said the coastal areas are ideal for the development of wind power, as they enjoy six months of strong northwesterly winds every year, with an average wind speed of 5 meters per second to 6 meters per second.
The Bureau of Energy has set the target of generating enough renewable energy to meet 10 percent of the country's electricity needs by 2010, with wind power making up 80 percent of the renewable energy.
Taipower, the sole electricity supplier in the country, began to harness wind energy in 2002 and plans to establish 200 wind turbines in Taiwan proper and Penghu by 2010.
Taipower's long-term wind power development plant will build an additional 546 wind turbines between 2010 and 2020 in shallow waters off the west coast and Penghu, with a total capacity of 1,980 megawatts.
The estimated cost for the wind turbines is NT$200 million each.
Out of the 546 windmills, 176 will be built off Penghu and the electricity generated by these units will be relayed to Taiwan through a 40km-long undersea cable.
The other 370 units will be established 10km to 15km off the coast of Changhua and Yunlin counties, Taipower said.
Comments will be moderated. Keep comments relevant to the article. Remarks containing abusive and obscene language, personal attacks of any kind or promotion will be removed and the user banned. Final decision will be at the discretion of the Taipei Times.