Army investigating crash cause
RE-ASSEMBLY The debris of the UH-1H Iroquois chopper has been sent to an Army base in Tainan to help in the investigation of the causes of the crash on Tuesday
The wreckage of an Army helicopter that crashed into a radio tower in a remote mountain region in Kaohsiung County on Tuesday will be re-assembled to facilitate an investigation into the cause of the crash, military sources said yesterday.
The debris of the crashed UH-1H Iroquois helicopter from the Army's Airborne and Special Operations Command has been recovered and sent back to Kueijen Army Base in Tainan County for re-assembly, the sources said.
The command is scheduled to hold consultation meetings over the next few days to discuss repair of the damaged radio tower, owned by the Police Radio System, and compensation for owners of banana plantations destroyed by the crash, the sources said.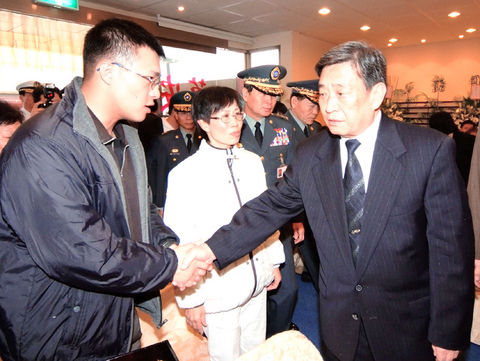 Minister of National Defense Lee Jye, right, visits family members of the victims of Tuesday's military helicopter crash near Kaohsiung during a visit to Taoyuan yesterday.
PHOTO: CNA
The crash claimed the lives of all eight Army officers onboard.
Five of the bodies were recovered at the crash site on Tuesday, but rescuers didn't locate the remaining three until Wednesday noon when they were discovered lodged in the girders of the radio tower, which the helicopter had collided with in bad weather.
The helicopter's data flight recorder, or "black box," has also been recovered and turned over to the investigators looking into the causes of the crash.
The crashed helicopter was manufactured in 1974. Under a cooperation deal with US-based Bell Helicopter, the military's Aero-Industry Development Center -- the forerunner of the present-day Aerospace Industry Development Corp -- built a total of 118 UH-1Hs since 1969.
Despite the age of the aircraft, Minister of National Defense Lee Jye (李傑) said after the latest flight disaster that the fleet of UH-1H helicopters is still a reliable part of the country's airborne arsenal.
Lee also suggested that the cause of Tuesday's crash was most likely bad weather rather than the age of the aircraft.
Nevertheless, Lee said that all the remaining UH-1Hs have been grounded for thorough safety checks.
He also said a detailed investigation report about the cause of the crash would be unveiled at a news conference next Tuesday.
The minister said that the family of each officer killed in the helicopter crash will receive compensation of at least NT$15 million (US$453,360).
Comments will be moderated. Keep comments relevant to the article. Remarks containing abusive and obscene language, personal attacks of any kind or promotion will be removed and the user banned. Final decision will be at the discretion of the Taipei Times.