Presidential Office replaces statue of Sun with pot plant
Following the government's recent efforts to remove statues of late dictator Chiang Kai-shek (蔣介石), a spokesman yesterday confirmed that a statue of Sun Yat-sen (孫逸仙) had been removed from the Presidential Office building.
Anyone visiting the grand hall on the second floor of the Presidential Office building will notice that the bronze statue of Sun that used to grace a pedestal at the top of the stairs has been replaced with a potted Taiwan cypress tree.
Presidential Office spokesman David Lee (李南陽) said yesterday that the move was purely decorative and the statue would be relocated to the Academia Historica.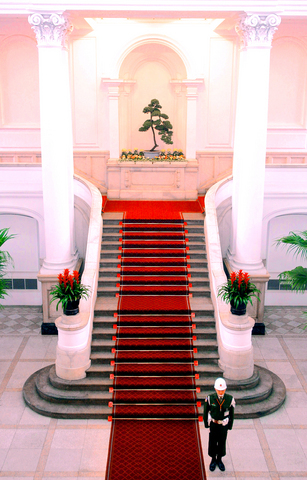 A potted Taiwan cypress tree stands where a bronze statue of Sun Yat-sen used to be located at the top of a staircase at the Presidential Office building yesterday.
PHOTO: CNA
The Presidential Office has also changed the name of a monthly meeting, previously dubbed the "Founding Father Memorial Monthly Meeting," to "Presidential Monthly Meeting."
Lee said the public should not read too much into the changes. He added that a painting of Sun still hangs in the auditorium where monthly meetings take place and that participants would continue to bow to it.
Last March, the Presidential Office changed a sign that hung above its entrance hall from "Chieh-shou Hall" to "Presidential Office."
The sign, which had been in place since 1948, was criticized as a relic of authoritarianism.
"Chieh-shou Hall" can be translated as "Long live Chiang Kai-shek Hall."
The Japanese-built Presidential Office building was dubbed Chieh-shou Hall to celebrate the 60th birthday of Chiang, who was born on Oct. 31, 1887.
When approached for comment yesterday, Democratic Progressive Party Legislator Wang Shih-cheng (王世堅) said it was "very good" that the Presidential Office had replaced Sun's statue with a potted plant "because Sun promoted the planting of trees."
Additional reporting by Flora Wang
Comments will be moderated. Keep comments relevant to the article. Remarks containing abusive and obscene language, personal attacks of any kind or promotion will be removed and the user banned. Final decision will be at the discretion of the Taipei Times.