Interview: Walesa sees value in dealing with past
Nobel Peace Prize laureate Lech Walesa, a former president of Poland, met with `Taipei Times' reporter Jewel Huang during his visit to Taipei last month to attend the global forum on new democracy, and shared his thoughts on leading his country in ending communist rule and transforming itself into a democracy
Taipei Times: What was the key to toppling Poland's Communist Party? Could it be applied to other communist countries?
Lech Walesa: I might need a whole night to answer this question.
Actually there were a lot of keys to such an outcome. The political system of Poland imposed by the Soviet Union and Poland did not have its own political and economic systems. The Polish people were disatisfied with these systems and had been thinking of overthrowing them. The Polish people actually deeply and fundamentally opposed communism.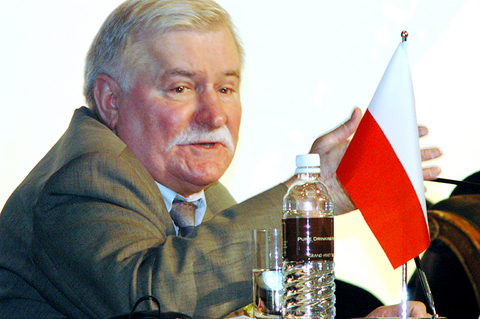 Nobel Peace Prize laureate and former Polish president Lech Walesa gestures while speaking at the Global Forum on New Democracy last month in Taipei. The forum was sponsored by the Taiwan Foundation for Democracy.
PHOTO: TAIWAN FOUNDATION FOR DEMOCRACY
After World War II, in the 1950s, we had tried to resist communism by using violence, yet we did not make it.
In the 1960s, we launched strikes but they were slapped down by then government.
Through trials and failures, we had been seeking effective ways to achieve that goal. And the conclusion we had at that time was that we could not succeed unless all the people of Poland consolidated and united together.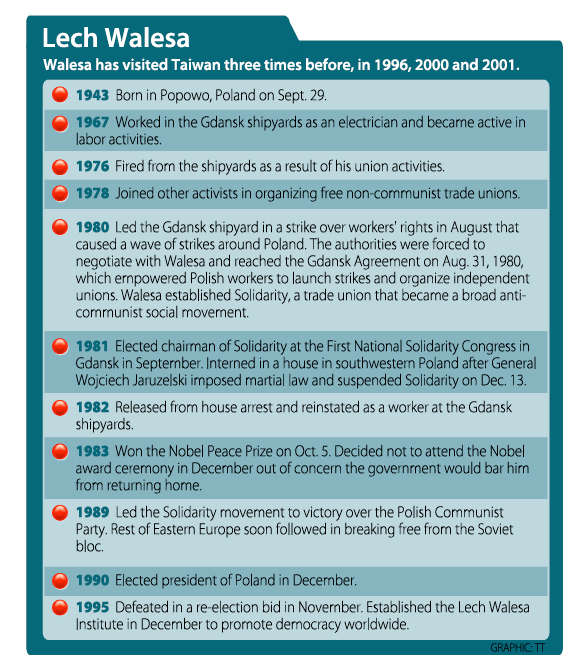 However, it seemed that we just could not attain the solidarity and union that we needed. But after John Paul II was elected the pope of the Roman Catholic Church in 1978, Poland seemed to find the power to connect all the Polish people.
Once we found the spiritual power, we found the pillar of solidarity and consequently we got rid of communism at last. And it was me who led the fights and struggles during those 30 years. Basically we started a new stage in 1989. Communism collapsed and [former Soviet president] Mikhail Gorbachev was out of work. [Editor's note: The Soviet Union collapsed in 1991.]
TT: How did Poland deal with the issue of transitional justice and how did you cope with the party assets left behind by the Polish Communist Party? In Taiwan the huge party assets of the Chinese Nationalist Party (KMT) have been a controversial and tricky issue since Taiwan accomplished a shift in power in 2000. What is your opinion on this issue?
Walesa: Yes, if we talked about this kind of querying, and awkward past, we can see it is a major challenge for all countries.
Poland was the first to fight against communism and win. In order to start all the processes, we had to agree to make a consensus -- on a very poor compromise for our side.
When we progressed, if we had wanted to seek revenge or to do such things, perhaps this would have required us breaking the compromise and breaking the consensus. And it is true that the communists never cared about the agreements and the principles and they acted against others who were breaking them ... But we certainly did not want to become like them.
So I think we are having a problem in this respect -- of how to deal with the past -- but this is the price that we are paying for being the leaders in the process of overcoming communism.
It is true that the very first generation, so to say, of those who were involved in signing the agreement and reaching the consensus on this compromise, they could not do a lot because they were all obliged by the agreement that they had signed.
But right now, when democracy has brought a new wave of political activists and replaced the very first of wave, how to deal with the past is becoming a topic more and more.
The countries that overcame communism, [all] in different ways, they could have dealt with the past differently and they did it. But Poland actually pulled the teeth out of the bird's mouth -- but you [still] know [how] dangerous a bird devoid of the teeth [is] by the pose.
Mongolia could win victory and break its way into freedom and Germany could reunite. But this was only once the bird could no longer bite. That's why I think we are paying quite a high price for being the first. It has continued to be the original compromise that started all the [whole] process.
TT: If handling the party assets issue would cause violent social conflict and incur massive social costs, do you still think it is worth doing?
Walesa: It is true that there is no universal solution in terms of this issue. Each country needs to calculate the risks and consider all the circumstances.
Because [if] we, for example, had started dealing with communism and the communists as such, we would have [dealt with] threat with communism itself.
The point is, if you deal with ferocious beasts, you do not push [them] against the wall because they start fighting back.
When I first started the negotiations with the communists, they were much powerful than me. The last strike before that [the negotiations] was 150 people who supported me, and there were 400 armed vehicles surrounding us.
So how could I react? Could I say to the general that you just put me into jail with those 150 people? That would be a lot of me [sic].
So, if there is a force that is more powerful behind those who want to come to deal with the past, then I would say "yes, do it" because it is important. But if you haven't got that force then don't do it, because you would never achieve anything. So each individual country needs to calculate for itself.
I am, generally speaking, in favor of giving the justice for the past. Justice is one of my concerns.
When I was the leader, I really had to calculate the chance and whether it was worthwhile [considering] that situation we had. I could not have allowed the Polish people to bleed or to die for this purpose and I had to be shrewd when I came to my decision.
TT: What is your advice to the people of China? Do you think they should get rid of the Chinese Communist Party?
Walesa: The point is that the People's Republic of China has its own pace, a different pace. Let me explain this with an example.
Countries like Taiwan or Poland, if we want to go to Germany or somewhere else by little vehicles, we could drive 200 kilometers per hour on the highway. But just imagine, by the same token, if China drives with that speed, it might crash on the way. So that's why China needs to take a different pace, a little bit slower, otherwise they would crash on the way.
But they would inevitably go into overcoming communism in the future because they need democracy and free markets. But we need to understand the pace they need to go with.
Democracy takes much longer time and takes a much slower pace. Democracy really takes a long while before we could actually implement all the elements to begin to cooperate inside the country.
I don't justify anything they [the Chinese authorities] do. What I am saying is that they have no alternative and we need to do everything we can to support them. Some support them through business cooperation, others by boycotting them. Both ways are positive. All of them will lead to globalization, freedom and free markets.
But if this situation [communism] continues too long, they will be blamed for the dictatorship. The country has an inefficient system that is blamed for impeding the development of the rest of the world, although they are big, powerful and have a big population.
But if we maintain solidarity, we will pressure those countries for change. Of course it will still take a while, but we are heading in the right direction. And I am confident I will live to see it for myself.
TT: During your visit to Taiwan, what has been your impression of local political leaders?
Walesa: I notice that so much has been built up in Taiwan. I am actually terrified by the speed of progress in Taiwan. You seem to be really developing fast here. If so, politicians have done something here, haven't they?
The leaders want to show solidarity with the people of Taiwan and they don't want anyone from the outside to disturb the progress or deprive Taiwan of its freedom, because the world needs Taiwan.
If Taiwan has its own vision of progress and development, no one should get in Taiwan's way. Taiwan should be free to carry on its democratization and progress.
"Catch up on the better one," and that is my wish to Taiwan.
Comments will be moderated. Keep comments relevant to the article. Remarks containing abusive and obscene language, personal attacks of any kind or promotion will be removed and the user banned. Final decision will be at the discretion of the Taipei Times.