Shaw at home for New Year's dinner
RECOVERING The Taichung mayor's wife, who suffered brain damage and lost part of a limb in a horrific car accident last year, will get to spend some time at home
Taichung Mayor Jason Hu's (胡志強) wife Shaw Hsiao-ling (邵曉鈴) made her first public appearance yesterday since suffering severe injuries in a car accident in Tainan on Nov. 18 last year.
At about 10:30am, Shaw -- accompanied by Hu and a group of hospital staff -- met the media in the lobby of China Medical University. Shaw, who was hospitalized for 92 days, appeared in good shape despite limping and speaking somewhat slowly. She wished the public Happy New Year.
Hu looked very happy and satisfied with his wife's recovery.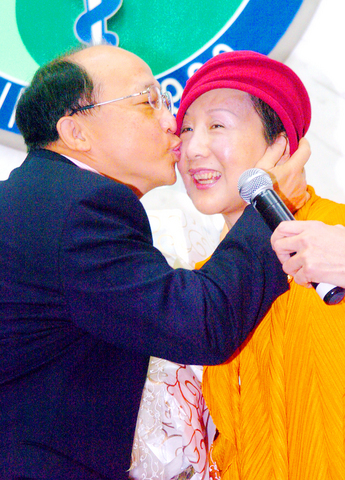 Taichung Mayor Jason Hu kisses his wife Shaw Hsiao-ling at China Medical University yesterday.
PHOTO: LIAO YAO-TUNG, TAIPEI TIMES
"I told you she is as beautiful as ever. I was right, wasn't I?" Hu said.
Hu said he had a few days ago begun talking with hospital staff about the possibility of Shaw leaving the hospital temporarily to have a New Year's Eve dinner at home with family members.
Initially, doctors were concerned that Shaw's left arm, which was partially amputated, could become infected. As a result, the hospital assigned two doctors to accompany Shaw during her stay at home. She will return to the hospital after 24 hours to continue her treatment.
"The wound on her amputated arm is expected to be fully healed by the end of March. Hopefully she will be fitted with an artificial limb by June," said Cheng Lung-pin (鄭隆賓), the hospital's vice president.
Cheng added that it might take Shaw between six months and a year to recover from the brain damage that has affected her speech and ability to recognize people.
Comments will be moderated. Keep comments relevant to the article. Remarks containing abusive and obscene language, personal attacks of any kind or promotion will be removed and the user banned. Final decision will be at the discretion of the Taipei Times.