Chen pushes corporate name-change
SIGN OF THE TIMES In his e-newsletter, the president backed renaming the postal service and stamps, while CPC staff protested a plan to change their firm's name
President Chen Shui-bian (陳水扁) weighed in yesterday on the recent debate on name rectification, saying he supported replacing "Chunghwa" on the nation's postage stamps with "Taiwan."
At present, the stamps bear the country's official name, Republic of China, in English and Chinese.
"I believe we will soon see a satisfactory outcome, including the long-awaited terms `Taiwan Post' and `Taiwan Post,'" Chen said in his latest weekly e-newsletter.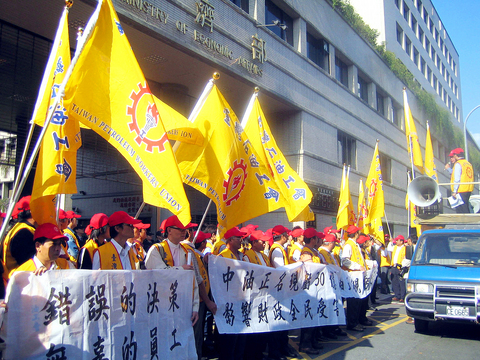 Members of the Taiwan Petroleum Workers' Union protest outside the Ministry of Economic Affairs yesterday against the government's decision to change the name of the Chinese Petroleum Corp to ``Taiwan CPC Corporation.''
PHOTO: CNA
Chen suggested state-owned Chunghwa Post -- Chunghwa means "China" -- would change its name to Taiwan Post.
At a separate setting yesterday, Chunghwa Post president Lai Ching-chyi (賴清祺) said a board meeting would be held today to amend references in its charter from "Chunghwa Post" to "Taiwan Post."
A nameplate bearing the name of "Taiwan Stamp" will also be unveiled on Monday, he said.
In his e-newsletter Chen said the public seemed to approve the government's changing the name of Chiang Kai-shek International Airport to Taiwan Taoyuan International Airport. The change took effect last September.
That showed that what most people want is a name that fits reality so that we can express ourselves without restriction and not to be confused, he said.
"We will change the names of state-owned enterprises, of the country's embassies and of laws and regulations step by step," he said, adding that the government has noticed the importance of name rectification and has been making a study of its implementation.
The government recently said that the state-run Chinese Petroleum Corp (CPC) and China Shipbuilding Corp would soon be renamed, with "Taiwan" included in their titles.
Democratic Progressive Party (DPP) Chairman Yu Shyi-kun recently urged the government to implement what he called "transitional justice" issues -- changing the names of Chiang Kai-shek Memorial Hall, all the Chungcheng roads (中正路), withdrawing the military police guard at Chiang's mausoleum and removing Chiang's image from the nation's icons.
The name rectification plan has been criticized by the opposition, who said the DPP was deliberately trying to stir up ethnic conflict.
"Some people oppose name rectification of state-owned enterprises because changing the names will cost a lot of money in redoing trademark, contracts, regulations and designs, but this way of thinking puts the cart before the horse," Chen said.
Chen said all well-known enterprises represent their countries of origin.
"For example, Nokia is from Finland, Microsoft is from the US and Toyota is from Japan," he said, adding that changing the name of state-owned enterprises would make them more recognizable in the international community, which in turn would help expand their business opportunities.
"If it is the right thing to do, then we should do it," Chen said.
Presidential Office Secretary-General Chiou I-jen (邱義仁) told reporters later yesterday that what Chen said in his e-newletter had nothing to do with rectifying the country's name.
"The direction President Chen pointed out is being carried out gradually by the Executive Yuan. There is no need to associate that with the country's name," he said.
Taiwan is in a predicament when it comes to the issue of changing its name, Chiou said.
"Taiwan is not allowed to use the name `Republic of China,' nor is it allowed to change its name," he said.
In related news, Ministry of Foreign Affairs Spokesman David Wang (王建業) said yesterday that the ministry would follow through on the president's pledge to rectify the title of Taiwan's embassies and representative offices.
"The names of Taiwan's embassies and representative offices sometimes get confused with those of China," Wang said.
"The ministry has been pushing the policy of adding the word `Taiwan' under `Republic of China' on the signboards of its offices in order to avoid confusion," he said.
"It is a practical need. People do not have to relate it to politics," Wang said.
Meanwhile, hundreds of CPC employees protested yesterday over the company's plan to change its name -- in a move they said was politically motivated.
The company's board of directors are scheduled to decide today whether to change its Chinese name from "Chinese Petroleum Corporation" to "Taiwan CPC Corporation."
The company's management has claimed that a new name would help the firm expand overseas business while saying it would "display the determination to keep roots in Taiwan by state-run enterprises."
The union said CPC's corporate logo alone is worth hundreds of million of dollars and it would be unreasonable to give that up.
Additional reporting by Jewel Huang and AFP
Comments will be moderated. Keep comments relevant to the article. Remarks containing abusive and obscene language, personal attacks of any kind or promotion will be removed and the user banned. Final decision will be at the discretion of the Taipei Times.