President welcomes Remengesau at the Presidential Office
As a result of heavy rain, the Presidential Office yesterday held an indoor reception for Palau President Tommy Remengesau -- the first leader of a diplomatic ally to visit the country this year.
Such indoor receptions have been held at the Chiang Kai-shek Memorial Hall and Songshan Airport before. But yesterday's event marked the first time that an official welcoming ceremony had been held inside the Presidential Office since the building became the venue of choice in April last year.
Remengesau, who made a short speech after President Chen Shui-bian (陳水扁), said it had also rained during his last visit to Taiwan in May 2004.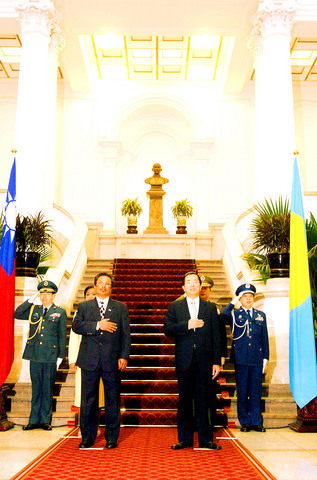 President Chen Shui-bian, front right, and Palau President Tommy Remengesau stand at attention during a welcoming ceremony at the Presidential Office yesterday. The ceremony was held indoors because of bad weather.
PHOTO: CNA
Rain in his country symbolized prosperity, Remengesau added.
Chen apologized for the cancelation of the military review, which would have been held outside the Presidential Office had it not been raining. Chen said it had rained when he attended the inauguration of Remengesau's second term in January 2005 and when the pair went fishing during Chen's visit to Palau to attend the first annual Taiwan-Pacific Allies Summit last September. Together, Chen and Remengesau won the fishing competition at the summit.
Chen yesterday complimented Remengesau on his fishing skills, saying they were "superb."
With the second annual Taiwan-Pacific Allies Summit set to take place in the Marshall Islands, Chen said Remengesau would be able to pass on his experience as a host to ensure the event is a success.
Chen apologized to Remenge-sau on behalf of his wife, Wu Shu-jen (吳淑珍), who was absent because she is ill.
Chen hailed Palau as one of the nation's staunchest allies in the international community and thanked Remengesau for speaking in favor of the nation's bids to join international organizations such as the UN and the WHO.
Comments will be moderated. Keep comments relevant to the article. Remarks containing abusive and obscene language, personal attacks of any kind or promotion will be removed and the user banned. Final decision will be at the discretion of the Taipei Times.