Government applauds Mobile Medical Mission
The Mobile Medical Mission, a diplomatic project that offers free medical services to Taiwan's allies in the South Pacific and Africa, has cured over 35,000 patients in need, the International Cooperation and Development Fund (ICDF), the government oversight agency, said yesterday.
The ICDF, an independent foundation that provides foreign aid under the commission of the Ministry of Foreign Affairs, yesterday held a year-end conference to share its achievements with the public.
Over the past year, the entourage of doctors, medical assistants and technical facilities that tour the remote countryside in Africa and the South Pacific have been well received by the poor and suffering, the ICDF said.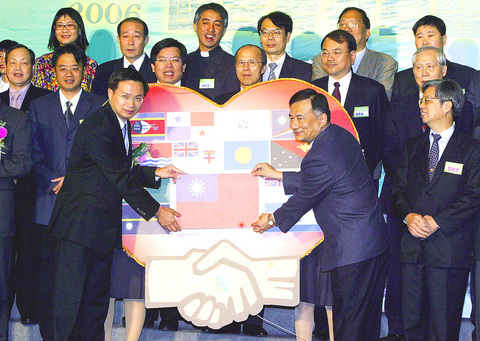 Minister of Foreign Affairs James Huang, front left, members of the Mobile Medical Mission, a commission of the International Cooperation and Development Fund, pose for a group photograph at a candle lighting ceremony at the Grand Formosa Regent in Taipei yesterday.
PHOTO: CNA
About 130 doctors and nurses went to a dozen countries -- some of which were not Taiwan's allies -- including the Marshall Islands, Swaziland, Palau, Panama, Fiji, the Solomon Islands and Nauru. Their services were provided free of charge.
A number of people who participated in the medical project -- including doctors, medical volunteers and young men serving military service -- attended the conference yesterday. The Solomon Islands' Ambassador to Taiwan Beraki Jino also attended to thank Taiwan for it's assistance.
Foreign Minister James Huang (黃志芳) lauded the ICDF for helping Taiwan's allies, saying that the nation's high quality medical services were worth much more than any kind of diplomatic negotiation.
"As long as foreign countries face medical need, Taiwan stands ready to help," he said. "Although Taiwan is not yet a member of the World Health Organization, Taiwan holds onto the belief that medical services have no borders."
Huang added the ministry plans to establish long-term medical service points on the Marshall Islands and the Solomon Islands, and if the outcome is positive, it will be extended to other countries.
Chen Cheng-chung (陳正忠), Secretary-General of the ICDF said "the ICDF will continue to work with Taiwan's best hospitals and diplomatic officials to assist those in need of medical treatment."
Comments will be moderated. Keep comments relevant to the article. Remarks containing abusive and obscene language, personal attacks of any kind or promotion will be removed and the user banned. Final decision will be at the discretion of the Taipei Times.