TSU caucus whip rebuts newspaper `party purge' story
Taiwan Solidarity Union (TSU) caucus whip Liao Pen-yen (廖本煙) yesterday dismissed media speculation that former president Lee Teng-hui (李登輝) is planning a party purge.
Liao made the comments in response to a story in the Chinese-language United Evening News yesterday, which said the TSU's spiritual leader had decided on a new chairman for the party and its program for the immediate future.
The report apparently was prompted by remarks from TSU Secretary-General Lin Chih-chia (林志嘉) who after Monday's Central Executive Committee meeting told reporters that "those who do not support Lee's ideals and approach cannot stay."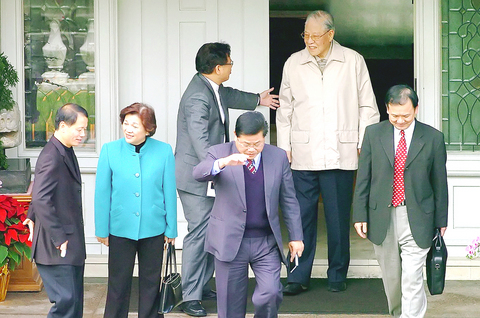 Former president Lee Teng-hui, second right, bids farewell yesterday to a group of Taiwan Solidarity Union legislators who visited him at his home to discuss the future of the party in the wake of the Dec. 9 municipal elections in Taipei and Kaohsiung.
PHOTO: CHIEN JUNG-FONG, TAIPEI TIMES
Liao was one of the Central Executive Committee members who met with Lee at the former president's home yesterday morning.
He told reporters that Lee had talked about reforming the party and how the TSU should run its campaign for next year's legislative elections.
Lee is slated to meet with another group of Central Executive Committee members today.
TSU Chairman Shu Chin-chiang (蘇進強) submitted his resignation after the party failed to secure five seats in Taipei and Kaohsiung city councils. Lee, however, reportedly rejected the resignation.
Shu is scheduled to meet with Lee on Friday after he returns from a trip abroad.
Comments will be moderated. Keep comments relevant to the article. Remarks containing abusive and obscene language, personal attacks of any kind or promotion will be removed and the user banned. Final decision will be at the discretion of the Taipei Times.