Ex-adviser Koo speaks his mind
MEETING WITH HSIEH Koo Kwang-ming had some candid things to say about the 2008 election and the DPP's `superstars'
Former presidential adviser Koo Kwang-ming (辜寬敏) thinks the idea of Premier Su Tseng-chang (蘇貞昌) and former premier Frank Hsieh (謝長廷) running on the same ticket in the 2008 presidential election would be a waste of talent.
It would be unlikely for Su and Hsieh to run together as they are too good to pair together, he said.
"Hsieh is smart and stable and Su is aggressive and enthusiastic," Koo said. "As the vice presidency is a backup position, it would be a waste of great talent if either of them became vice president."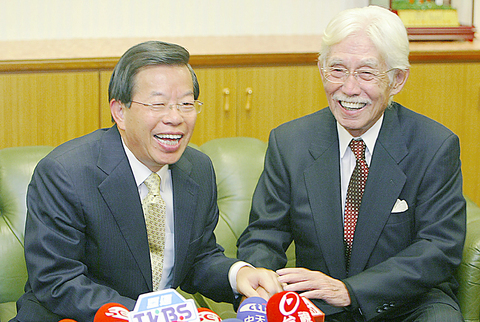 Former premier Frank Hsieh, left, shares a laugh with former presidential adviser Koo Kwang-ming during a visit to Koo's office to thank him for his support in the Taipei mayoral campaign.
PHOTO: CNA
Koo made the remarks after meeting with Hsieh yesterday afternoon. Hsieh visited Koo's office to thank him for his support during the Taipei mayoral campaign.
Commenting on Democratic Progressive Party (DPP) Chairman Yu Shyi-kun, Koo said that Yu does not have an impressive educational background but is obedient and hard-working.
As for Vice President Annette Lu (呂秀蓮), Koo said he does not think "someone wearing a skirt" would make a good commander-in-chief.
Koo, who served in the Japanese military during World War II, said he knows first hand what war and battlefields are like.
As for former DPP chairman Lin I-hsiung (林義雄) whom many have dubbed "a saint," Koo said it would be better for a "saint" to remain a "saint" because he might become an ordinary person after four years in the presidency.
However, it would be up to the electorate to decide whether the next president will be someone who keeps his feet on the ground or is smooth and slick, Koo said.
Koo said he did not have a preference for president, but he hoped the vice presidential candidate would be a Hakka.
He said he hoped the DPP's "four superstars" would put the nation's interests first and realize that no one is indispensable.
He also called on Hsieh and other presidential hopefuls to announce their policies on cross-strait relations, the economy and defense issues as soon as possible instead of waiting until right before the 2008 election.
Saying that he dropped out of the "superstar" gang a long time ago, Hsieh said he would urge the others to follow Koo's suggestions.
Hsieh, who is considered more liberal about cross-strait polices, said that Taiwan must strike a balance between keeping its identity and opening up to the world, including China.
Koo, who's known for his pro-independence stance, said he did not agree with Hsieh's liberal cross-strait polices, but believed that Hsieh recognized the changes in the Taiwan Strait, including Beijing's passage of its "Anti-Secession" Law and pan-blue leaders' visits to China.
The DPP is considering whether to push forward its primaries for next year's legislative elections and the 2008 poll and Koo said the party should spend more time debating the issue to achieve consensus before taking any action.
Koo said Su might want to consider resigning to resolve the controversies involving local chiefs' special allowance funds.
The 6,500 local chiefs should have their monthly salaries cut in half and those who have allegedly misused their funds should be punished, he said.
"It would be a great opportunity for Su to concentrate on running for the presidency," he said, adding that it would be hard to find someone willing to serve the rest of Su's term.
Koo said People First Party (PFP) Chairman James Soong's (宋楚瑜) decision to quit politics was a great loss because Soong was a seasoned politician, although he would be better treated by history if his party could play a more rational role in the legislature and help pass more bills concerning people's livelihood.
Comments will be moderated. Keep comments relevant to the article. Remarks containing abusive and obscene language, personal attacks of any kind or promotion will be removed and the user banned. Final decision will be at the discretion of the Taipei Times.