Elections 2006: Hau to consider new staff for his mayoral office
Chinese Nationalist Party (KMT) Taipei mayoral candidate Hau Lung-bin's (郝龍斌) victory on Saturday sparked speculation over whether he would take over Mayor Ma Ying-jeou's (馬英九) administration or bring in his own staff.
Following his victory over Democratic Progressive Party (DPP) candidate Frank Hsieh (謝長廷), Hau spent yesterday morning on a motorcade tour around the city thanking voters' for their support, while starting to draw up the list of his new team.
"We are establishing a hand-over team today to prepare for the personnel of the new administration. But so far, we haven't discussed the issue yet. One of the key figures to discuss the issue with is, of course, Mayor Ma," Hau said.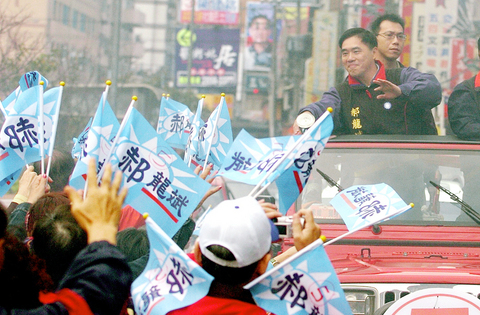 Taipei Mayor-elect Hau Lung-bin of the Chinese Nationalist Party yesterday waves to well-wishers to convey his thanks for their support in Saturday's election.
PHOTO: SUNG CHIH-HSIUNG, TAIPEI TIMES
Hau said the hand-over team will be convened by him, and his campaign office director Samuel Wu (吳秀光) will be responsible for drawing up the list of potential administration members and discussing the issue with the nominees.
Although Hau stressed that "talent would be the sole standard" for his new team, many of Ma's department heads are expected to retain their posts, according to sources in Hau's camp, who spoke on condition of anonymity.
With Hau promising to use Taipei as a base from which to push for a KMT victory in the 2008 presidential election, he will retain the heads in key municipal departments, including civil affairs, social welfare, labor and education departments, or at least seek Ma's opinions before making a reshuffle, sources said.
Lee Sush-der(李述德), the city government's Secretariat director, could be promoted for his crucial performance amid the scandal over Ma's special allowance fund.
Within Hau's camp, Wu, a former director of the department of civil affairs in Ma's administration, is expected to play an important role in the new administration. On the other hand, KMT Central Standing Committee Lien Sheng-wen (連勝文), director of the youth corps in Hau's camp and son of former KMT chairman Lien Chan (連戰), is widely speculated to serve as the spokesman of Hau's administration.
Hau declined to confirm the speculation yesterday, but lauded Lien Chen-wen's capabilities.
"He is a capable talent. During the campaigning period, I think everyone got a chance to see his creativity and energy. I was very impressed by his ability," Hau said.
As for Ma, who will leave his post as mayor to concentrate on his position as KMT chairman, it appears likely that he will also reshuffle some of the key KMT positions.
These include the chairman's office director and the director of the party's culture and communication committee.
It also appear that he will arrange for some of his own aides in the city government, such as Taipei Deputy Mayor King Pu-tsung (金溥聰), who is scheduled to leave the city government with Ma, to assist him in the KMT.
Ma is scheduled to resign from office on Dec. 19 and the new administration may be announced as soon as Dec. 25.
Meanwhile, in view of supporters' call for him to run in 2008 presidential election, Hsieh yesterday said that "the DPP lacks no one to run for president."
To discuss the 2008 presidential election issue at this time only serves to hurt the DPP's supporters again, he said.
Hsieh's defeat on Saturday was regarded as an "honorable defeat" by pan-greens, as he managed to narrow the percentage-point margin between the DPP and the KMT.
He lost to Hau by a 12.92 percentage point margin. In 2002, the DPP's candidate Lee Ying-yuan (李應元) lost to Ma by a 28 percentage point margin.
Additional reporting by Staff Writer
Comments will be moderated. Keep comments relevant to the article. Remarks containing abusive and obscene language, personal attacks of any kind or promotion will be removed and the user banned. Final decision will be at the discretion of the Taipei Times.