Lu launches new regional body
REMEMBRANCE In her opening remarks yesterday, the vice president said that the day's events bore historical significance, marking the anniversary of the Kaohsiung Incident
The 30-member-state Pacific Congressional Caucus (PCC) was inaugurated yesterday in Taipei. Cofounder Vice President Annette Lu (呂秀蓮) said it was the second-largest of its kind, after the African Parliamentary Union -- an organization of 38 member countries.
The PCC is a sub-group of the Democratic Pacific Union (DPU).
The DPU consists of 28 democratic countries from the Asia-Pacific region and is Lu's brainchild. The organization was established in August last year.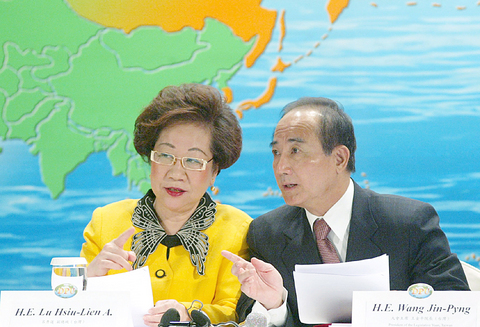 Vice President Annette Lu, left, chats with Legislative Speaker Wang Jin-pyng at the inauguation meeting of the Pacific Congressional Caucus at the Grand Hotel in Taipei yesterday.
PHOTO: CNA
The goal of the organization is to make concerted efforts to improve democracy, peace and prosperity in the world.
Legislative Speaker Wang Jin-ping (王金平) joined Lu at the event and was elected as the convenor of the PCC.
Seven deputy convenors were elected from North America, Central and Southern America, Asia and the Pacific region.
Five PCC chapters have been established. They are located in Taiwan, South Korea, Panama, Paraguay and Indonesia.
The caucus agreed to initiate seven projects, including establishing a PCC Web site, launching an e-caucus project, increasing women's participation in the caucus and exchanging programs among caucus members.
The caucus also declared that it would be used as a platform to promote democracy, peace and prosperity. Three initiatives were adopted addressing challenges to national and regional stability.
They concerned democracy consolidation, peace enhancement and ensuring the sustainability of prosperity.
In her opening remarks yesterday, Lu said that the day's events bore historical significance, as it marked the 37th anniversary of the "Kaohsiung Incident."
The December 1979 "Kaohsiung Incident" occurred when authorities broke up an anti-government parade organized by Formosa magazine. Lu was the magazine's vice president in the 1970s.
Lu was sentenced to a 12-year term by the then Chinese Nationalist Party (KMT) administration on charges of sedition for a 20-minute speech on human rights she made in 1979 in Kaohsiung.
She served nearly five-and-a-half years in jail.
Lu went on to tell the audience that she had been lucky during her imprisonment because she survived and went on to become the nation's first female vice president in 2000. Lu won a second term in office in 2004.
The other woman who was involved in the incident and jailed is former Council of Labor Affairs chairwoman Chen Chu (陳菊).
Chen was elected as the nation's first female mayor of a special municipality in the Kaohsiung mayoral election on Saturday.
Comments will be moderated. Keep comments relevant to the article. Remarks containing abusive and obscene language, personal attacks of any kind or promotion will be removed and the user banned. Final decision will be at the discretion of the Taipei Times.