Taiwanese arrested in Manila smuggling raid
NICKEL AND DIME Two suspects from Taiwan will be charged with mutilating Philippine money after investigators seized a stash of flattened coins in Manila
Two Taiwanese nationals were arrested for allegedly trying to smuggle 7 tonnes of Philippine one-peso coins to China for their nickel content, the National Bureau of Investigation said yesterday.
This was the latest in a series of attempts to smuggle coins out of the country so that they could be melted down for their metal, officials said.
The suspects, identified by the last names Lin and Hsin, were arrested during two raids over the weekend in Manila, bureau regional chief Ruel Lasala said.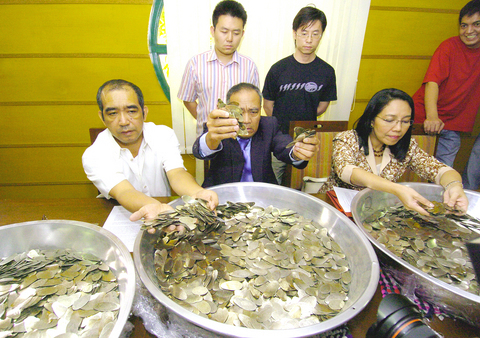 Philippine National Bureau of Investigation regional director Ruel Lasala, center, and two other officials display the flattened Philippine one-peso coins that had allegedly been seized from two Taiwanese nationals at a press conference at the bureau's offices in Manila on Monday.
PHOTO: AFP
About a million flattened coins were seized in the raids, Lasala said.
The two suspects face charges of mutilating Philippine currency, but Lasala said that the investigations were continuing to see if they could be charged with more serious crimes.
The bureau had information that the two Taiwanese individuals may have already smuggled out some 45 tonnes of flattened one-peso coins to China, Lasala added.
The suspects had apparently resorted to flattening the coins so that they could be shipped out of the country as ordinary base metals.
The Customs Bureau seized three shipments consisting of millions of one-peso coins from February to July, the investigation bureau official said.
Lasala said that it was not known whether the two suspects had been involved in the previous attempts to smuggle out coins.
The rising price of nickel has made the metal content of the one-peso coin worth more than its face value, which is about US$0.02.
According to local media reports, the coins are sold in China for US$20 per kilogram.
In an effort to cut down smuggling, the Philippine Central Bank is now minting one-peso coins using a cheaper alloy.
Comments will be moderated. Keep comments relevant to the article. Remarks containing abusive and obscene language, personal attacks of any kind or promotion will be removed and the user banned. Final decision will be at the discretion of the Taipei Times.