Legislators point finger at Ma's staff
SHARING THE BLAME? Hsu Kuo-yung questioned why none of the Taipei mayor's staff had been punished over the special allowance fund scandal
Democratic Progressive Party (DPP) legislators yesterday raised the possibility that staff at Taipei Mayor Ma Ying-jeou's (馬英九) mayoral office were collectively involved in the mishandling of Ma's mayoral special allowance fund.
Last Wednesday Ma said the controversy surrounding his special mayoral allowance was the result of an "administrative defect" by Taipei City Government staffer Yu Wen (余文), who substituted receipts for smaller amounts with personal receipts for larger amounts.
DPP Legislator Hsu Kuo-yung (徐國勇) told a press conference yesterday that so far none of Ma's office staff had been punished over the special allowance case, although director of the mayor's office Cheng An-kuo (鄭安國) resigned last Wednesday.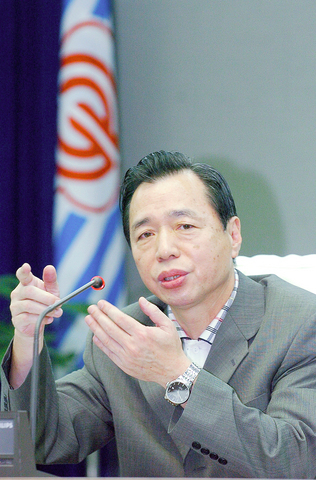 Taipei City Government Secretariat Director Lee Shu-te gestures at a press conference yesterday in response to Democratic Progressive Party legislators' claims that staffers at Taipei Mayor Ma Ying-jeou's office have been collectively involved in the mishandling of Ma's mayoral special allowance fund.
PHOTO: WANG MIN-WEI, TAIPEI TIMES
DPP Legislator Kuan Bi-ling (管碧玲) said the city government had not fired Yu because Ma's office staffers were trying to back each other up as they had committed an "organized crime."
Ma should ask Prosecutor Hou Kuan-jen (侯寬仁) to consider Yu as an "indemnified witness" so that Yu could say whether Ma had been aware of Yu's substitution of receipts, Kuan said.
In response, the city government's Secretariat Director Lee Sush-der(李述德) later told a separate conference that Kuan's claim that mayoral office staff were "accomplices" in any wrongdoing on Ma's part was a serious accusation.
Lee, meanwhile, admitted that the person who gave Kuan the mayor's cash remittance note of NT$15 million (US$455,580) to charity groups last Friday was a member of the Tsai Jui-yueh Dance Foundation.
The individual's behavior was a violation of personal privacy and an insult, said Lee.
But it was up to the mayor whether to sue the individual, Lee added.
Lee added that the city government would not make public the details of Ma's donation, referring to Ma's announcement on Friday night that he would donate the portion of his special allowance fund received over the past eight years to charity.
Kuan, meanwhile, yesterday also accused the city government of forcing Felix Chen (陳秋盛), a former resident conductor and director of the Taipei Symphony Orchestra, to retire without further investigation into alleged forgery charges that were brought against him three years ago.
Chen, who was present at yesterday's press conference, said the city government also forced him to copy a retirement report drafted by the city's Department of Cultural Affairs, adding that Ma did not deal with his petition.
In response, Lee said Chen's case was referred to judicial investigation after the city government conducted an internal investigation.
Ma also asked the government to handle the case in accordance with government regulations after Chen pleaded with him, Lee said, adding "it is a personal problem. It has nothing to do with the mayor."
Director of the Cultural Affairs Department Commissioner Sebastian Liao (廖咸浩) said yesterday that the city government at the time wanted to transfer Chen to a specialist job in the department, but Chen applied for retirement after the official transfer order was issued.
Chen was asked to write a retirement report because the department wanted to prevent the public from thinking there was anything untoward about the case, since he had not reached retirement age, Liao added.
Comments will be moderated. Keep comments relevant to the article. Remarks containing abusive and obscene language, personal attacks of any kind or promotion will be removed and the user banned. Final decision will be at the discretion of the Taipei Times.