Kaohsiung hopefuls debate
Candidates in the Kaohsiung mayoral election shared their campaign platforms yesterday in a televised two-hour debate that focused on the ability to direct municipal affairs, visions for city development, attitudes toward corruption and positions on localization issues.
During the cross-questioning session, Democratic Progressive Party (DPP) candidate Chen Chu (陳菊) questioned Chinese Nationalist Party (KMT) opponent Huang Chun-ying (黃俊英) about his ability to enact municipal policies.
Huang, who was the deputy mayor of Kaohsiung between 1995 and 1998, said that he had made Kaohsiung Harbor more accessible to the city during his tenure.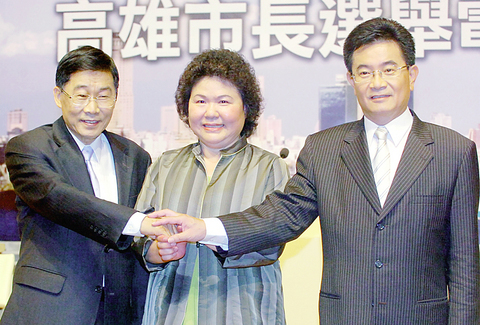 Kaohsiung mayoral candidates Huang Chun-ying of the Chinese Nationalist Party (KMT), left, Chen Chu of the Democratic Progressive Party (DPP), center, and Lo Chih-ming of the Taiwan Solidarity Union (TSU) shake hands after a debate.
PHOTO:HUANG CHIH-YUAN, TAIPEI TIMES
He also said that he believed it takes longer than one mayoral term to implement policies.
Huang questioned Taiwan Solidarity Union (TSU) candidate Lo Chih-ming (羅志明) about how he planned to solve the city's debt burden, which, according to Huang, has risen to about NT$200 billion (US$6 billion) this year.
In response, Lo said he would be able to reduce the city's financial burden by bringing more industries to the city, which would increase its output value.
Lo then questioned Huang over the use of his special allowance during his tenure as deputy mayor.
Huang said he always endeavored to use public funds in an honest manner.
When Chen asked Lo who the best mayoral candidate would be given the importance of continuing the "pro-localization regime," Lo criticized the DPP's move to urge him to withdraw from the race as political "tactics."
Chen, Lo and Huang also discussed direct transportation links with China.
Chen said the direct links would not benefit traditional industries in Kaohsiung, and therefore the most important task at hand was to create more value-added industries.
Lo said allowing the direct links would only help the northern regions of the country.
Huang, however, said that Kaohsiung would sacrifice its future without the direct links.
Comments will be moderated. Keep comments relevant to the article. Remarks containing abusive and obscene language, personal attacks of any kind or promotion will be removed and the user banned. Final decision will be at the discretion of the Taipei Times.