MOA warns on unused funds
POCKET MONEY The audit ministry's comment that officials who keep unused funds may be suspected of corruption raised questions over Ma Ying-jeou's actions
Government officials who fail to return the unused portion of their special allowance funds to the national treasury may be implicated in corruption, Ministry of Audit Spokesman Wang Yung-hsing (王永興) said yesterday.
Wang's remarks suggested that Taipei Mayor Ma Ying-jeou (馬英九) could be accountable for counting half of his special allowance fund as income since assuming office in 1999 when he declared his assets to the Control Yuan.
Wang made the remarks yesterday when he was asked by Democratic Progressive Party (DPP) lawmakers about how the ministry audited Ma's fund expenditure.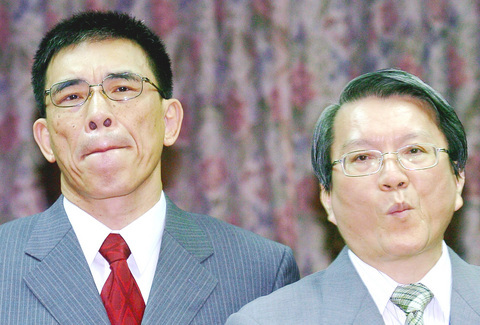 Ministry of Audit Spokesman Wang Yung-hsing, left, appears pensive while being questioned by Democratic Progressive Party legislators over Taipei Mayor Ma Ying-jeou's handling of his special allowance fund in the legislature yesterday. Wang is joined by Lee Yueh-teh, head of Taipei City's Department of Budget, Accounting and Statistics.
PHOTO: CHIEN JUNG-FENG, TAIPEI TIMES
`No irregularities'
Wang in September assured the public that there were no irregularities in Ma's usage of the mayoral fund.
The lawmakers said Wang owed them an explanation since Taipei City Government officials admitted on Tuesday night that fraudulent receipts had been used to claim reimbursements from Ma's special allowance fund.
In accordance with related regulations, reimbursements for half of the mayoral special allowance fund, or NT$170,000 (US$5,162), can only be claimed with the presentation of receipts.
While refusing to say Ma was guilty despite repeated questioning by DPP legislators, Wang said that "seeking reimbursements using fraudulent receipts is an act of falsifying an account, which constitutes forgery under the Audit Law (審計法)."
"The fund should be spent on public affairs, and government chiefs who keep the remaining sum of the funds could be implicated in corruption," Wang said.
DPP lawmakers also charged that aside from claiming half of the fund using fraudulent receipts, Ma was guilty of embezzlement as he deposited half of the fund, or NT$170,000 per month, into his personal account and counted it as his own property.
DPP Legislator Hsu Kuo-yung (徐國勇) demanded Wang offer an apology for his previous endorsement of Ma's usage of the special allowance fund.
Mutual trust
Wang insisted, however, that the ministry's audit of Ma's fund was above reproach.
"The interaction of government agencies is based on mutual trust, which was why we accepted the receipts the city government had submitted to us," Wang said.
The director of Ma's office, Cheng An-kuo (鄭安國), said on Wednesday that Taipei City Government staffer Yu Wen (余文) substituted receipts for 3,754 small amounts with personal receipts for larger amounts in a bid to reduce his paperwork.
Cheng also said that the city government had kept the original receipts.
Wang yesterday argued that what his ministry had reviewed were the receipts for the larger amounts, saying that the auditors hadn't seen the 3,754 receipts for smaller amounts.
Auditor-General Su Chen-ping (蘇振平) was absent from yesterday's meeting with DPP lawmakers as he had to attend an international conference.
Comments will be moderated. Keep comments relevant to the article. Remarks containing abusive and obscene language, personal attacks of any kind or promotion will be removed and the user banned. Final decision will be at the discretion of the Taipei Times.