Lu describes funds as `murky'
AN HONORABLE MAN The vice president told a compatriots association that she didn't understand the funds and they were a problem for the nation
Only two individuals in Taiwan truly understand what purposes the "state affairs funds" serve and how they are meant to be used: the past and current democratically elected presidents of Taiwan, Lee Teng-hui (李登輝) and Chen Shui-bian (陳水扁).
That was Vice President Annette Lu's (呂秀蓮) message yesterday to 167 delegates of the Overseas Compatriot Affairs Commission (OCAC) during the opening ceremony of the commission's Taipei conference to promote Taiwanese culture abroad amid China's efforts to diplomatically suffocate the nation.
Flanked by bodyguards gripping identical, bulging briefcases, which some attendees speculated contained firearms too large to holster under their blazers, Lu called on the nation to "respect the due process of law" and not rush to conclusions regarding Chen's alleged misuse of state funds.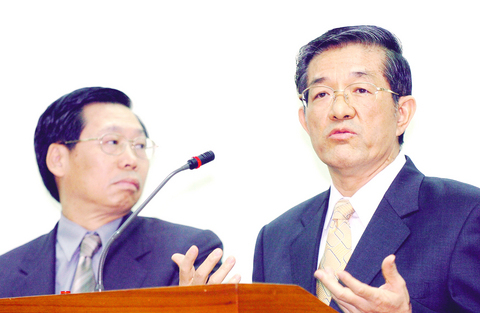 Minister of Justice Morley Shih tells the legislature yesterday that he would not interfere with or direct prosecutors' handling of the indictment of first lady Wu Shu-jen.
PHOTO: LO PEI-DER, TAIPEI TIMES
Chen's wife Wu Shu-chen (吳淑珍) and three top aides were indicted on Friday for embezzlement of state affairs funds, as well as forgery and perjury.
Prosecutors have accused the president of misusing the funds as well, but can't indict him because he possesses presidential immunity.
"In all my years serving as vice president, I never used state affairs funds, nor do I even understand what they are used for or how they're used," Lu told delegates yesterday, saying that everybody's -- including prosecutors' -- understanding of such funds was "murky" at best.
Only Taiwan's elected presidents could understand such matters, Lu added, saying that the relevant accountants were in charge of how the cash in question was handled, and that Chen only oversees overarching policies that involve the funds.
"The president is a noble man," Lu told the audience, adding that the lack of clarity regarding the funds is a vestige of the Martial Law era; as an "emerging democracy," Taiwan still faces ill-defined limits of power, and the murkiness of the state affairs funds is a case in point, the vice president said.
Frederick Ong (王中南), an OCAC delegate from the Philippines, told the Taipei Times that he himself wasn't sure what the "state affairs funds" were.
"Everybody has their own take of the situation [regarding Chen's alleged abuse of the funds]. I don't really understand these matters," Ong said, adding that he would respect the judiciary's handling of the cases against the first lady and the three indicted presidential aides.
In addition to expressing her views on the "state affairs funds" scandal at the ceremony, Lu also slammed China for undermining Taiwan's diplomatic channels, saying that China has taken advantage of Taiwan's democratic freedoms to influence public opinion.
"China has invested heavily in certain Taiwanese media organizations, using them as conduits to sway public opinion here in its favor," Lu claimed, adding that China was also throwing cash at its military like never before to make it strong enough to invade Taiwan.
The nation's strategic position would make an ideal platform for China to extend its hegemonic influence across the Asia-Pacific region, Lu said.
"China now has 820 ballistic missiles targeting Taiwan. Some of its long-range missiles could easily strike the continental US, including Los Angeles," Lu said with numerous Taiwanese American delegates from California in the audience.
"So, China is not just a threat to Taiwan; it's a threat to the US and the whole region," she added.
The vice president also poured cold water over direct links with China, saying that the amount of security needed to protect the nation amid the establishment of direct links would be overwhelming.
Dr. Chang Chi-tien (張啟典), an OCAC delegate from the US and a medical professor at a Harvard University-affiliated hospital in Boston, admitted that he was unaware of what the "state affairs funds" were used for, but said that he thought Chen was innocent.
As for alleged Chinese hegemony, Chang told the Taipei Times that "[China] keeps on lying" in reference to China's claim that Taiwan is a part of its territory.
Comments will be moderated. Keep comments relevant to the article. Remarks containing abusive and obscene language, personal attacks of any kind or promotion will be removed and the user banned. Final decision will be at the discretion of the Taipei Times.