Tea culture on show at Taipei Arena
EXPERTS The exhibition will include tea masters from Urasenke, one of the three main schools that teach Japan's traditional and detailed tea ceremony
Displaying a range of wares from Taiwan Paochung tea to English black tea, the Taipei Tea Culture Expo will commence at the Taipei Arena next Wednesday, drawing tea connoisseurs and industry professionals from around the world.
The exhibition, organized by the Taipei City Department of Cultural Affairs and running from Wednesday through Saturday, will include representatives from six prominent teahouses run by connoisseurs in Japan, South Korea, the UK, India and Tibet, who will give demonstrations on how their countries consume tea.
"Tea is an important part of local culture and the daily lives of our people. This expo is a rare opportunity for participants to appreciate Taiwanese tea culture, as well as understand more about tea culture from around the world," Deputy Commissioner of the department Lee Bin (李斌) said yesterday during a press conference at the Taipei City Hall.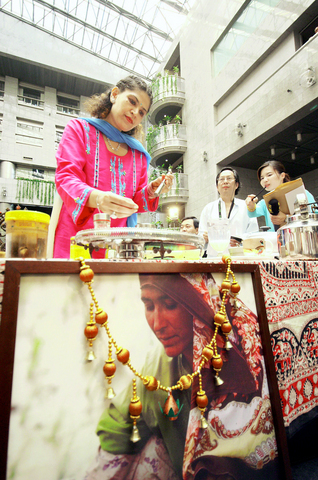 A foreign tea expert demonstrates yesterday how to make tea at a press conference promoting the Taipei Tea Culture Expo with the help of tea experts from Japan, South Korea, Taiwan, India, Tibet and the UK. The four-day event opens on Wednesday at the Taipei Arena.
PHOTO: CHENG HSUEH-YUNG, TAIPEI TIMES
Making "Masala Tea" from northern India at the press conference, India connoisseur Girija Shah put "Masala" -- a mix of powdered black pepper, dried ginger, cloves, cinnamon and nutmeg -- into boiling water with tea leaves, milk and sugar.
"This is good for winter, and good for curing the flu," she said, adding that the Indians often drank the tea during gatherings of friends and family.
The exhibition will also include Japanese tea masters from Ur-asenke, one of the three main schools that teach the Japanese tea ceremony, which encompasses spiritual and religious practices.
According to Takako Onuma, manager of the Urasenke Taipei Association, all the tea sets, tea and tea snacks that will be on display are all brought directly from Japan.
"The gestures in the Japanese tea ceremony are a representation of the host's deepest appreciation to the guests. The tea ceremony is very traditional and has a long, unbroken history in Japan," she said.
Eight exhibition halls will be open to the public during the exhibition. Tickets for the performances vary from NT$300 (US$10) to NT$2,500, and are available through ERA ticketing outlets. Information about the exhibition can be found at http://tea.culture.gov.tw.
Comments will be moderated. Keep comments relevant to the article. Remarks containing abusive and obscene language, personal attacks of any kind or promotion will be removed and the user banned. Final decision will be at the discretion of the Taipei Times.