Gay rights activists slam criticism
Criticisms levelled by Christian groups at the Taipei City Government for funding gay rights events has infuriated gay rights advocates who yesterday condemned the stigmatization of gays and lesbians.
The advocates also urged the city government not to flinch from raising civil awareness of gender diversity and promoting basic human rights by opponents' comments.
"Funding gay rights movements is a significant index of the city government's progress in protecting human rights ? But these [Christian] groups stigmatize us because of their outdated way of thinking," Ashley Wu (巫緒樑), the director of public affairs at the Taiwan Tongzhi Hotline Association, said yesterday at a press conference.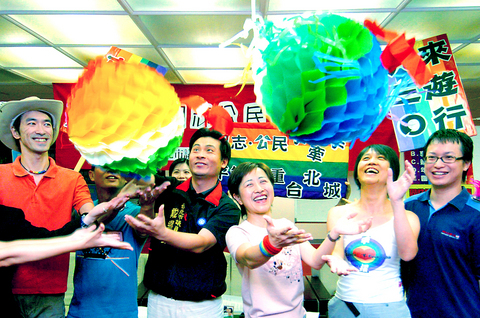 Taipei City councilors Dai Hsi-chin from the People First Party, third left, and Lin Yi-hua of the Chinese Nationalist Party, third right, play with paper balls at a press conference yesterday aimed at promoting the LGBT Civil Rights Movement 2006 for gays and lesbians.
PHOTO: SEAN CHAO, TAIPEI TIMES
Wu and other advocates, accompanied by Chinese Nationalist Party (KMT) Taipei City Councilor Lin Yi-hua (林奕華), made the remarks responding to various representatives of Christian groups, and KMT City Councilor Li Keng Kuei-fang (厲耿桂芳) who voiced disapproval on Friday of the city government's listing of the `Taipei Gay Civic Movement' as a normal item in its annual budget.
Li Keng and the representatives accused the city government of planning to sponsor a public wedding ceremony for gays and lesbians next month.
`disastrous'
"Legalizing same-sex marriage would be disastrous. Does the city government plan to subjugate the nation by allowing gay marriages?," Chang Mau-song (張茂松) a minister from the Hsien Tien Covenant Church said on Friday during a press conference held by Li Keng.
Deputy Chief of the Taipei City Department of Civil Affairs Yeh Jie-sheng (葉傑生) later denied the accusation, stressing that the city government had no plans to hold any wedding ceremony for gay couples before same-sex marriage was legalized.
Li Keng, however, continued to question the city government's friendly gestures to the gay community, warning that promoting same-sex relationships or marriage would only help the spread of AIDS, as homosexuals are "prone to having AIDS."
Taipei Mayor Ma Ying-jeou (馬英九) yesterday said that the gay civic movement aims to respect human rights and embrace gender diversity.
"But it doesn't mean that we are encouraging people to become gays and lesbians," Ma said when attending a municipal event in Taipei.
Chairman of Taiwan's Gay and Lesbian Political Caucus Nelson Chen (陳敬學), who wed his partner last year in a public ceremony and received Yeh's blessing on behalf of the department, while approving of its gestures to the gay community, resented the city government's being "hypocritical" on the matter.
flower basket
"Last year the department sent a flower basket to my wedding as a blessing. Now it says that it doesn't support gay marriage when confronted by conservative groups," he told the Taipei Times.
The "Taipei Gay Civic Movement" was launched by the city government in 2000 with an annual budget of about NT$1 million (US$ 30,000).
The event will be held Sept. 18 this year with a rainbow-flag-raising ceremony in front of Taipei City Hall.
Gay rights groups will hold a gay parade on Sept. 30 and plan a collective gay wedding ceremony in Huashan Culture Park following the parade.
Comments will be moderated. Keep comments relevant to the article. Remarks containing abusive and obscene language, personal attacks of any kind or promotion will be removed and the user banned. Final decision will be at the discretion of the Taipei Times.