Taipei program aims to support young artists
It has been impossible for fifth-grader Tseng Wei-ting (曾偉婷), an aspiring artist, to take lessons in painting outside of school because of her family's financial difficulties.
But thanks to the "Little Van Gogh" charity program organized by the Taipei Youth Recreation Center and the Taipei City Government, she has been able to receive free fine art lessons, and may have a chance to visit the Van Gogh Museum in the Netherlands.
Underpriviledged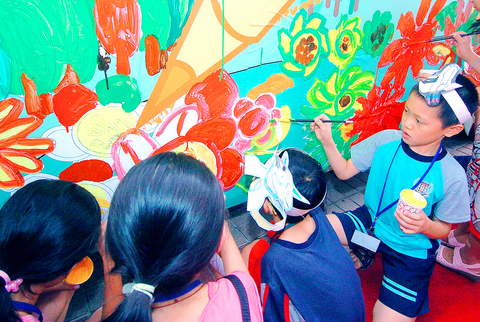 Elementary school students from disadvantaged families across the nation yesterday paint a bus in Taipei as part of the ``Little Van Gogh'' charity program organized by the Taipei Youth Recreation Center, Taipei City Government and ABN Amro Bank Taiwan.
PHOTO: LIAO CHEN-HUEI, TAIPEI TIMES
The program sponsored 60 elementary school students, whose disadvantaged background prevented them from developing their talent in fine arts, to attend an eight-day summer camp with painting courses, outdoor sketching activities and opportunities to meet famous artists, including well-known sculptor Ju Ming (朱銘).
"I like painting very much, and I've learned a lot of skills during the camp ? I appreciate this opportunity because my parents can't afford to send me to painting lessons," Tseng told the Taipei Times, adding that she loved landscape paintings the most.
Investment
Chen Kuan-lu (陳光陸), executive director of the center, said yesterday during a press conference that the program was designed to cultivate kids from poor families who have the talent and potential to become outstanding artists.
In addition to holding exhibitions of the kids' works around the country next month, the program will select 30-40 paintings to be exhibited in the Van Gogh Museum in September, and three kids will have a chance to visit the museum in Holland, he said.
Taipei City Education Department Commissioner Wu Ching-ji (吳清基) said that the city government hoped to promote children's creativity and artistry.
"We don't want our kids to be bookworms, and hopefully this kind of program can encourage their talents in the arts," he said.
Participating in the program, Tseng said, not only helped her to gain some painting skills, it had boosted her confidence.
"I want to be a painter in the future. I will try very hard to carry out my dream," she said.
Comments will be moderated. Keep comments relevant to the article. Remarks containing abusive and obscene language, personal attacks of any kind or promotion will be removed and the user banned. Final decision will be at the discretion of the Taipei Times.