Ma calls on KMT members to suffer move to new HQ
At a ceremony marking the party's relocation to a smaller headquarters, Chinese Nationalist Party (KMT) Chairman Ma Ying-jeou (馬英九) yesterday urged party members to endure current hardships for the sake of accomplishing the KMT's ambition of regaining the reins of government.
Likening President Chen Shui-bian (陳水扁) to Yuan Shih-kai (袁世凱), a warlord in the early 1900s who overthrew the Republic of China and declared himself emperor, Ma said it is time for the KMT's rebirth through reform.
"As a democratic political party, the KMT needs to observe social trends and listen to public opinion ? The relocation of KMT headquarters is the party's first step to becoming a clean party with ideals," Ma said yesterday during the party's housewarming celebration for its new headquarters.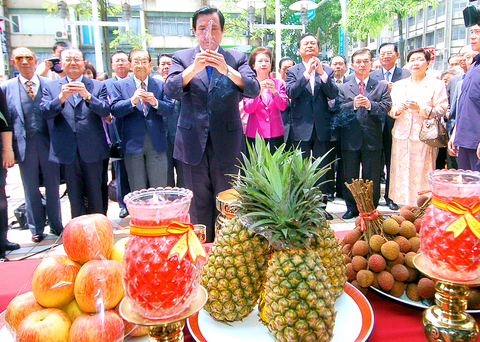 Chinese Nationalist Party (KMT) Chairman Ma Ying-jeou leads a group of KMT party officials in an incense-burning ceremony at the party's new headquarters on Bade Road in Taipei yesterday.
PHOTO: WANG MIN-WEI, TAIPEI TIMES
The party sold its headquarters on Zhongshan S Road to Evergreen Corp for NT$2.3 billion (US$70 million) in March and moved to the current site on Bade Road on Monday.
Ma said moving to the new headquarters illustrated the KMT's resolve for reform and for meeting office by reducing expenditures. The new premises' annual maintenance fees of NT$8 million are one-fifth of the maintenance fees at the old residence (NT$40 million).
During the long period in which the party governed Taiwan, the headquarters once housed around 4,000 party workers. After the KMT lost power in 2000, the party began to downsize. There will only be about 120 party workers left when the KMT moves to its new building on Bade Road.
Echoing Ma's remarks, Legislative Speaker Wang Jin-pyng (王金平) called on KMT members to follow Ma's leadership to win back power from the DPP in 2008.
"Since Chairman Ma has taken over the chairmanship, he has made the KMT a small but strong party," Wang said yesterday at the party function. "Now we all share a common goal of winning back government in 2008. Let's all support Chairman Ma to reach this goal."
Comments will be moderated. Keep comments relevant to the article. Remarks containing abusive and obscene language, personal attacks of any kind or promotion will be removed and the user banned. Final decision will be at the discretion of the Taipei Times.