Su Chi says Chen sent envoy to China
The nation's top China affairs official yesterday dismissed media reports that President Chen Shui-bian (陳水扁) sent a secret envoy to China late last year in a failed attempt to negotiate with Beijing.
An article in the Chinese-language China Times yesterday quoted Chinese Nationalist Party (KMT) Legislator Su Chi (蘇起) as saying that Chen sent an envoy to China last December to discuss cross-strait relations and in an attempt to reword the so-called "1992 consensus."
Chen's advances, Su said, were rejected by the Chinese authorities, who told the envoy that "[Beijing] has lost faith in the Chen administration" and that there was "no mutual trust" between Beijing and Taipei.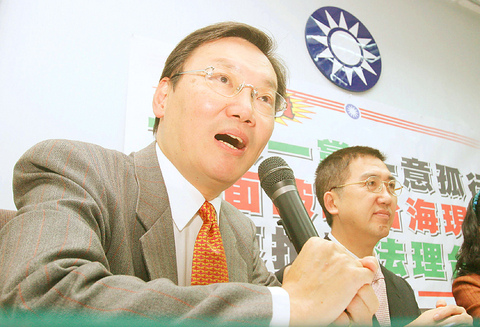 Chinese Nationalist Party Legislator Su Chi talks at a press conference yesterday.
PHOTO: CNA
Envoy
According to Su, the envoy in question was former MAC vice chairman Chen Ming-tung (陳明通), the only retired high-ranking official in charge of national security affairs to have visited China in the past two years.
KMT Chairman Ma Ying-jeou (馬英九) said the outcome of the meeting was more important than the fact that it had taken place.
"It's not unusual, because President Chen has sent delegates to China before. What's important is not the mission itself, but whether they reached a consensus on cross-strait issues," Ma said yesterday morning after attending a municipal event.
Ma said that former president Lee Teng-hui (李登輝) had also sent delegates to China in an attempt to reach consensus on cross-strait issues.
"Whether or not you can make the other side believe you is the key," he added.
However, Mainland Affairs Council (MAC) Chairman Joseph Wu (吳釗燮) stated firmly yesterday that "no such thing" had occurred.
"There was no secret envoy and there have been no private communications between the two governments," Wu told reporters yesterday before attending a forum at National Chengchi University.
The top China affairs official indicated that the reason Su made the allegation was to divert media attention from his recent admission that he had fabricated the "1992 consensus."
Wu admitted that Cheng had visited China at the end of last year, but that he did so to participate in academic activities.
"He applied to the council for permission, and his visit was purely academic," the council chairman said.
Groundless
The Presidential Office also dismissed Su's remark as "groundless," saying the president had not dispatched anyone to China to talk with high-ranking officials.
Earlier in the day, Democratic Progressive Party (DPP) caucus whip Chen Ching-jun (陳景峻) said: "Su deliberately fabricated the `envoy' story to divert public attention away from his lie about the existence of a so-called `1992 consensus' regarding the `one China' principle."
DPP Spokesman Tsai Huang-liang (蔡煌瑯) agreed.
"It is another lie that Su told to patch up the lie of the `1992 consensus,'" Tsai said. "We call on Ma and Su to apologize for this immediately and to stop finding excuses for their mistakes."
Additional reporting by Ko Shu-ling and Mo Yan-chih
Comments will be moderated. Keep comments relevant to the article. Remarks containing abusive and obscene language, personal attacks of any kind or promotion will be removed and the user banned. Final decision will be at the discretion of the Taipei Times.