Three soldiers killed in explosion
DANGEROUS TIME The blast at a weapons factory in Kaohsiung County was the third mishap at a military facility this week alone, and the second one with fatalities
Three soldiers were killed in an explosion at a weapons factory in Kaohsiung County yesterday morning, the Ministry of National Defense said.
The blast occurred at 9:30am and was the latest in a string of accidents at army depots.
A ministry spokesman said initial investigations revealed that a machine used in the production of ammunition blew up at the military-run factory in Tashu (大樹) Township.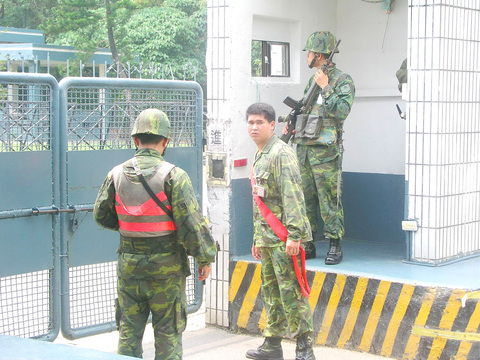 Soldiers stand guard yesterday outside a military factory in Tashu Township, Kaohsiung County, where three soldiers were killed in an explosion.
PHOTO: HUNG CHENG-HUNG, TAIPEI TIMES
The deceased were identified as Sergeant First Class Chiu Kuo-chen (邱國珍), Staff Sergeant Hsu Ming-cheng (許明成) and Staff Sergeant Su Ching-kuo (蘇清國).
"We feel deep regret over the accident," the spokesman said, adding that the ministry will assist the families of the deceased.
The ministry has already formed a special task force to investigate the cause of the accident, he said.
Yesterday's blast came just two days after a string of explosions rocked an ammunition depot on Matsu. The explosions hit an area used for the dismantling of old bombs, according to the military.
The explosions lasted for at least two hours and dozens of military personnel were evacuated from the area, the military said.
No one was injured in the blasts.
The military is still investigating cause of the explosions.
The removal and destruction of old explosives has been temporarily halted, according to statement from the military.
In addition to yesterday's blast and the Matsu incident, Army Captain Sun Chi-hsiang (孫吉祥) died on Wednesday at a military base in Taichung from severe internal bleeding after he was run over by an armored vehicle that suddenly accelerated. Investigators are still probing that case.
While inspecting the military stationed on small islets near Matsu yesterday, President Chen Shiu-bian (陳水扁) visited the site of Wednesday's explosions and vowed that a comprehensive investigation would be carried out.
Chen also conveyed his regards to soldiers stationed on outlaying islands who would not be able to return home to join their families during the Mid-Autumn Festival on Sept. 18.
Chen said Taiwan has to boost its defense capability and so the three arms-procurement bills proposed by the ministry should be approved by the Legislative Yuan.
"These bills are absolutely not wasteful. The procurement won't affect the budget arrangement for other affairs. Taiwan's policies can be examined by opposition parties, the people and the media. As long as the legislature passes such bills, the Taiwanese people will eventually understand the need to strengthen national defense," he said.
Additional reporting by Chiu Yu-tzu
Comments will be moderated. Keep comments relevant to the article. Remarks containing abusive and obscene language, personal attacks of any kind or promotion will be removed and the user banned. Final decision will be at the discretion of the Taipei Times.