More baseball players questioned
GAME-FIXING PROBE Two La New team members were called in by Yunlin Country prosecutors, who said they had issued subpoenas to 10 more players yesterday
Two La New Bears baseball players, starter Tai Long-Shui (戴龍水) and American third baseman Victor Rodriguez, were summoned from a stadium last evening by Yunlin prosecutors for questioning about a multi-million-dollar game-fixing scandal.
The two men were still being questioned as of press time.
"There are a number of Chinese Professional Baseball League [CPBL] players who appear to be involved in the game-fixing scam, including some foreign players," Criminal Investigation Bureau (CIB) Commissioner Hou You-yi (侯友宜) said yesterday.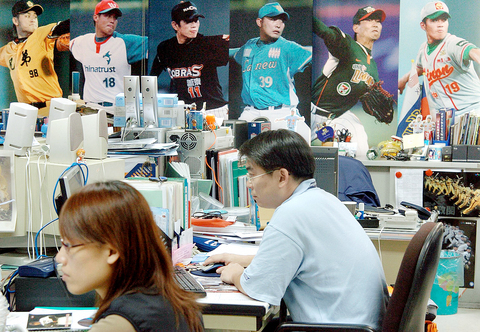 Two staff members work at the Taipei headquarters of the Chinese Professional Baseball League yesterday. The league was dealt a blow yesterday after 10 people, including a baseball player and a coach, were arrested for alleged involvement in a suspected multi-million-dollar game-fixing scandal.
PHOTO: AFP
"In order to reduce the impact on professional baseball's ticket sales, investigators will speed up their investigation," Hou said.
Prosecutors said yesterday that they would question 10 more players about alleged involvement in the scandal, which has already led to the arrest of 10 people.
Yunlin prosecutors said they had issued 10 subpoenas yesterday for players allegedly implicated in the scandal in which games were rigged through bribes, providing sex services or threatening players.
Prosecutors have questioned La New Bears catcher Chen Chao-ying (陳昭穎), who was detained by the Yunlin District Court. Based on Chen's statements, the prosecutors suspect Tai and Rodriguez might be involved in fixing games.
The two men were summoned for questioning as their team prepared to take to the field against the Macoto Cobras at Kaohsiung County's Chengching Lake Stadium.
On Wednesday evening, Chinatrust Whales starter Emiliano Girona, a 23-year-old right-handed pitcher from the Dominican Republic, and Jeffrey Andra, 30, a US pitching coach with the Sinon Bulls, were questioned by Yunlin prosecutors about possible connections with bookies.
Giron has been released on NT$100,000 bail, while Andra was released without having to post bond, but both men were restricted from leaving the county.
Prosecutors said Giron and Andra admitted they were treated to a visit to a Kaohsiung night club with hostess by persons associated with bookies, but both denied involvement in game-fixing scam.
Giron told prosecutors that he was threatened by gangsters connected to bookies but did not tell team officials about the threats.
The Whales suspended Giron and took him off the payroll. If he is tried and found guilty, the team would cancel his contract, the Broadcasting Corp of China (BCC) reported.
The CPBL has expelled Chen and Tai from the league.
This is the second time a game-fixing scandal has rocked professional baseball since the first league was started in 1989.
After a prolonged investigation, the Taiwan High Court closed the case of the 1997 scandal just last year, sentencing 22 players and rookies to jail terms ranging from seven months to two-and-a-half years.
Meanwhile, a Chinese-language newspaper reported yesterday that baseball teams are planning to halve the number of foreign players.
"At a meeting on Wednesday, the six teams agreed to cut by half the number of foreign players, starting next year," the newspaper reported. "As players from Latin American are more vulnerable to bribery, the teams plan to hire mainly players from Japan and the US."
The CPBL allows each team to hire four foreign players. Most of the foreign players come from Latin America.
Meanwhile, Democratic Progressive Party (DPP) lawmakers who are found to have been involved in the scandal will face the party's harshest punishment, DPP caucus whip Jao Yung-ching (趙永清) said yesterday.
"I've heard so much about lawmakers' participation in baseball gambling scams," Jao said. "It is not a secret."
He made the remark in response to media reports that lawmakers might enjoy a close relationship with Tsai Wen-pin (蔡文斌), who was suspected of being the kingpin in the gambling fraud.
(Additional reporting by staff reporter Ko Shu-ling)
Comments will be moderated. Keep comments relevant to the article. Remarks containing abusive and obscene language, personal attacks of any kind or promotion will be removed and the user banned. Final decision will be at the discretion of the Taipei Times.