World Vision Taiwan launches annual `30 Hour Famine' drive
World Vision Taiwan (WVT) yesterday launched its 16th "30 Hour Famine" campaign in a bid to raise funds for people suffering from hunger, AIDS, war and natural disasters.
"It's kind of a virtual reality. You just can't believe what you see and you can't even imagine it," said pop singer A-Mei (張惠妹) yesterday.
"People there are really struggling to survive," she added.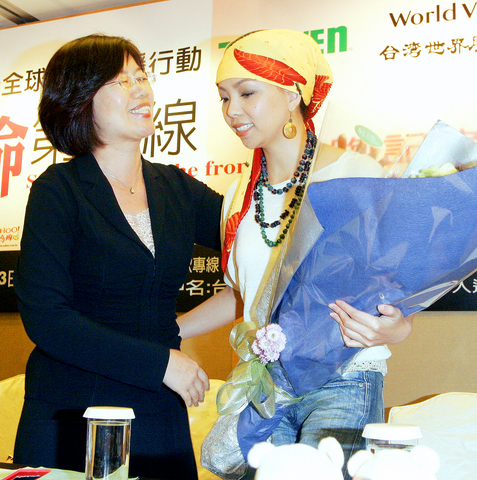 A World Vision Taiwan representative, left, yesterday presents flowers to Taiwan's pop diva Chang Hui-mei, also known as A-mei, during a press conference to thank her for her volunteer work for the organization.
PHOTO: TAI TA-SHIANG, TAIPEI TIMES
A-Mei, the "famine ambassador" of the WVT this year, just concluded a visit to southern Sudan with the charitable organization. She appeared at a press conference yesterday to launch the campaign.
The "30 Hour Famine" campaign has been held by the WVT every year in countries around the globe since 1990. Participants of the campaign fast for 30 hours to experience what it's like to go hungry, and also to raise money to help the world's needy.
Since its introduction, more than 750,000 people in Taiwan have joined the campaign and have helped millions of people in 78 countries around the world, according to the WVT.
Hank Du (杜明翰), executive director of WVT, said the journey to the southern Sudan was the toughest one has ever made.
"It's truly God's blessing to have come back alive," he said.
"Some mothers had been feeding their children weeds or tree leaves for three months. The need there is so immense that we definitely have to intervene before the situation gets out of hand," Du added.
A-Mei said that while in Sudan, she saw desperate people drinking muddy water.
"There is a water shortage almost everywhere in Sudan, and people don't really have a choice," the pop singer said.
"I met an 11-year-old girl named Mary who is so clever and speaks English fluently. She told me that she can't go to school every day because it is too far away, and the school is so primitive. She wants to leave there and go to a place where she can study," she said.
This year the "famine camp" will starve themselves from Aug. 13 to Aug. 14 at National Chung Shan University in Kaohsiung, with the theme, "Saving Lives at the Front." They hope to attract 8,000 people to participate in the event and raise NT$170 million to help people suffering from famine, AIDS, war, and natural disasters, and also to support the reconstruction of Taiwanese communities that were devastated by Typhoon Aere last year.
To participate in the campaign or to donate money, visit www.30hf.org.tw or call 02-2585-6300.
People can also donate by putting spare change in the donation boxes located at 7-Eleven outlets.
Comments will be moderated. Keep comments relevant to the article. Remarks containing abusive and obscene language, personal attacks of any kind or promotion will be removed and the user banned. Final decision will be at the discretion of the Taipei Times.