Soong urges unity among Chinese the world over
ETHNIC APPEAL Speaking at the Nanjing grave of Sun Yat-sen, the PFP chairman called on Chinese people on both sides of the Taiwan Strait to cooperate for peace
Calling on Chinese people everywhere to unite, People First Party (PFP) Chairman James Soong (宋楚瑜) yesterday paid homage at the Nanjing grave of Sun Yat-sen (孫中山), founding father of the Republic of China.
Speaking at Sun's mausoleum yesterday morning on the third day of his journey in China, Soong praised Sun's democratic principles while urging the Chinese people on either side of the Taiwan Strait to work together.
"Chinese people must help Chinese people. Mr. Sun would not want the Chinese people to become like scattered grains of sand and would hope for the sons of China to unite," Soong said.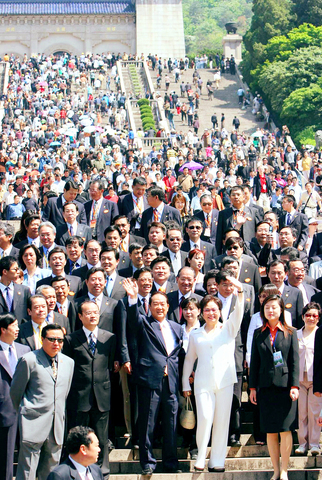 James Soong, center, and his wife Viola Chen wave to the crowd during their visit to the Mausoleum of Sun Yat-sen in Nanjing, capital of east China's Jiangsu Province yesterday. Soong called for China and Taiwan to work together for the good of Chinese everywhere after visiting the mausoleum of Sun, who is revered by both sides as a founding hero.
PHOTO: AP
He and the PFP are faithful followers of the democratic tenets Sun outlined in his treatise, Three Principles of the People, Soong said yesterday, citing Sun's words: "peace, striving and saving China."
At the mausoleum, Soong added that he promised to make all of the Chinese people understand that the work to build the prosperity and strength of the nation is not yet over.
Both sides of the Taiwan Strait must continue working, since the Chinese world is not yet united. The brothers on either side of the strait must work harder," Soong said.
Soong's visit to the mausoleum came at the end of the second leg of his China trip, which marks the second such trip made by a Taiwanese opposition figure this week. While both Soong and the PFP have resisted comparisons to their rival the Chinese Nationalist Party (KMT) and its chairman Lien Chan (連戰), who ended his trip just two days before Soong's began, many have pointed out their similarities.
Given that Lien's visit produced a five-point communique between Lien and Chinese President Hu Jintao (胡錦濤) on cross-strait relations, many have speculated about what could come out of Soong's meeting with Hu.
After visiting the mausoleum, Soong flew to Shanghai. After meeting with China's top negotiator with Taiwan, Wang Daohan (王道涵), this morning, Soong is scheduled to fly to Changsha, where his family's ancestral graves are located. Soong will be met in Changsha by his son and 87-year-old mother, who left for Changsha via Hong Kong yesterday morning.
Comments will be moderated. Keep comments relevant to the article. Remarks containing abusive and obscene language, personal attacks of any kind or promotion will be removed and the user banned. Final decision will be at the discretion of the Taipei Times.