Body of famous Annette Lu impersonator found
A FINAL BOW The actor Ni Min-jan was found dead in Ilan County yesterday, causing a frenzy of media speculation; police believe he committed suicide
Actor Ni Min-jan (倪敏然), famous for impersonating Vice President Annette Lu (呂秀蓮), was found dead yesterday afternoon. Police believe he committed suicide.
Ni had been missing for more than a fortnight.
His body was found in a mountainous area near Toucheng (頭城) in Ilan County.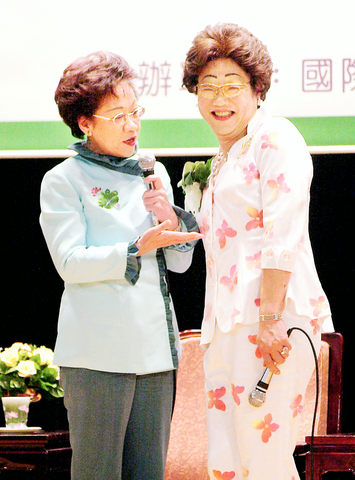 Vice President Annette Lu engages in a dialogue with Ni Min-jan, an entertainer famous for impersonating her, at an event at Taipei's Grand Hotel on December 22, 2003. Police yesterday found Ni's body in a mountainous area near Toucheng in Ilan County. They believe he committed suicide.
PHOTO: LO PEI-TEH, TAIPEI TIMES
Police said they believed Ni had hanged himself about 10 days ago.
They found Ni's National Health Insurance card in his pocket, enabling his speedy identification.
Ni had admitted he had suffered from depression and had trouble sleeping. He was in a car accident some days before leaving his family, which was attributed to his taking sleeping pills and driving.
Chinese-language newspapers have claimed that Ni had an affair with Chinese actress Xia Yi (夏禕) who now works in Taiwan, and speculated that recent ructions with Xia might have prompted his suicide.
But Ni had other troubles as well. After a show business career spanning 30 years, the one time host of a popular variety show, had run into problems in recent years and had been unsuccessful in finding a new show. He had admitted to having financial problems.
Ni was most noted. latterly, for his impersonations of Vice President Annette Lu (呂秀蓮), which caught Lu's attention to the extent that Lu asked Ni to accompany her on an official tour. Ni politely turned down the offer.
Ni claimed to have read through Lu's biography and her own books, studied every anecdote from Lu's political career and visited her hometown.
"I've lived her life," Ni said, saying that he was the one who"understands and loves Lu the most in the world."
Ni was one of the few male artists to specialize in impersonating female politicians.
Hearing of Ni's death, Lu yesterday issued a statement to express her condolences.
"Ni's talent that has entertained audiences for so long was outstanding. Regarding his late performance in impersonating me, he was so wonderful, I had to offer him my best regards and deepest appreciation," Lu said in the statement.
Lu also praised Ni's social concern that had been revealed through his performances.
"Though he has left this world, his comedic skills will long remain in people's memory," she said.
Ni's family went to Toucheng yesterday, as did the famous actor, Yu Tian (余天) who was a good friend of Ni.
Comments will be moderated. Keep comments relevant to the article. Remarks containing abusive and obscene language, personal attacks of any kind or promotion will be removed and the user banned. Final decision will be at the discretion of the Taipei Times.