New Cabinet spokesman Cho always ready to serve
LOYALTY The man who moved from the presidential office to become Cabinet spokesperson once said he slept in his office in case Chen or Lu needed him
Within a span of eight months, Cho Jung-tai (卓榮泰) was promoted from DPP lawmaker to deputy secretary-general of the Presidential Office in May of last year. He has since been promoted again, and will assume the position of Cabinet spokesperson on Feb. 1. \nCho, seen as the top aide and long-time follower of incoming premier Frank Hsieh (謝長廷), has now gained much political weight along with Hsieh's positioning as a likely candidate for the 2008 presidential race. \n"Viewing Cho as merely Hsieh's man is not entirely true," said an official with the Presidential Office who asked not to be named. \n"President Chen Shui-bian (陳水扁) also trusts him," he added. \nIn last year's presidential campaign, Cho served as deputy manager of Chen and Vice President Annette Lu's (呂秀蓮) campaign. \nCho's main job was to integrate support of pro-DPP local factions, seek grassroots votes and even solicit support from the opposition, said the official. \n"Cho accomplished his job with high efficiency, which met Chen's expectations," the official said. "He therefore won the trust of the president. To cultivate young talent, the president decided to quickly promote Cho," he added. \nNoting his hard-working nature, Cho once said "I lost 7kg in three months during the [presidential] campaign." \nHowever, unavoidably, Cho, who still refers to Hsieh as "teacher" in person, has been benefiting from Hsieh's endorsement. \nCho, 49, earned a bachelor's degree in law from National Chunghsing University. During the 1980s, he worked as Hsieh's assistant when Hsieh served as a Taipei City councilor and then as a legislator. Cho's job at the time was to preside over constituency services and campaign activities. \nHe then served two terms as a Taipei City councilor from 1990-1998 and two terms as a legislator from 1998 to last year. \nIn 2001, when President Chen became chairman of the DPP and reformed the party, he appointed many young politicians to head the party's departments. \nCho became the head of the party's social development department, taking responsibility for grassroots organization nationwide. \nAfter the presidential inauguration last May, Cho was nominated by Chen as deputy secretary general of the Presidential Office. \nServing as Chen's assistant, Cho's job was to look after domestic affairs, which involved integrating Presidential Office activities with those of civil groups. \nIn addition, he was also in charge of Chen's local visit itinerary, and assisted him in communicating with academics and other influential people of different fields. \n"Since the job suited Cho's background and experience, he did very well," said chairman of the Council of Hakka Affairs and a close friend of Cho -- Luo Wen-jia (羅文嘉). \nWhen leaving the presidential office, Cho told reporters "I always keep alert and often sleep in office because Chen or Vice President Lu could need me any time." \nCho also told reporters "I would like to be an MP3 player as Cabinet spokesman," meaning that the government, like music, should communicate with the public in a soft and enjoyable tone, rather than a harsh one.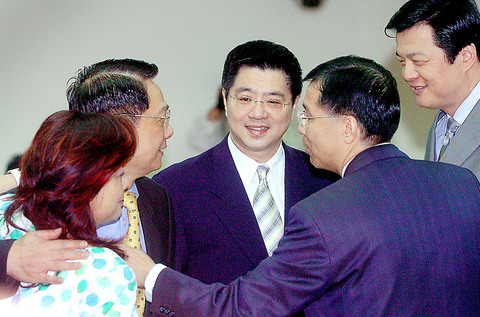 Deputy Secretary-General of the Presidential Office and the incoming Cabinet spokesman Cho Jung-tai, center, talks with opposition legislators before being questioned at an interpellation session in the legislature yesterday.
PHOTO: YEH CHIH-MING, TAIPEI TIMES
Comments will be moderated. Keep comments relevant to the article. Remarks containing abusive and obscene language, personal attacks of any kind or promotion will be removed and the user banned. Final decision will be at the discretion of the Taipei Times.