Ma stays put to deal with furor over comatose girl
Taipei Mayor Ma Ying-jeou (馬英九) has cancelled a trip to Australia in order to deal with a crisis that erupted after city hospitals turned away a critically injured child. \n"I think at this moment it is best to stay in the country to clear things up," Ma told reporters yesterday. \n"It's a shame to the capital that the hospitals didn't do everything in their power to treat the girl," he said. \nMa decided to cancel the visit late Friday after a hospital allegedly admitted to sending the child away despite having a vacancy in its intensive care unit. \nMa had postponed the Australian trip scheduled for Thursday by two days amid mounting criticism over his handling of the issue. \nHe had also planned to visit Thailand and make a transit stop in Hong Kong. \nMa, who has been tipped to run for president in 2008, has seen his popularity hit a record low in several surveys this week after the incident provoked a public outcry over the poor state of Taipei's health-care system. \nMeanwhile, the Municipal Jen Ai Hospital did not try its best to help, Taipei Deputy Mayor Yeh Chin-chuan (葉金川) said yesterday. \n"Jenai's emergency room was really full on the day," Yeh said. "But it would have been possible to spare an additional spot for the little girl if [the medical personnel at Jenai] had tried," Yeh said. \nYeh made his remarks during a press conference at city hall yesterday morning, after city officials interrogated 11 employees of Jen Ai for more the seven hours overnight on Friday. \nAccording to the preliminary investigation by the Taipei City Government, all beds at Jenai were occupied when the girl arrived. \nHowever, it would have been possible for the hospital to perform surgery on the girl and then try to obtain a free bed for her afterwards, but the hospital did not do so. \n"In addition, interviewees told us that they did not have adequate equipment to treat the girl," Yeh said. "That was another reason why they decided to refer her to other hospitals." \nIn the meantime, Yeh said that a well-organized and complete report on the case will be available tomorrow. Copies of the report will be delivered to the Taipei City Council, the Control Yuan and the Taipei District Prosecutors' Office for further investigation and potential punishment of some personnel. \nThe four-year-old girl, who was only identified by her surname, Chiu, was delivered to Jen Ai at midnight on Jan. 10 with serious brain injuries after she was beaten up by her father. \nWhen Chiu was sent to Jen Ai, Emergency Room Chief Lee Bin-chou (李彬州) decided to help Chiu and asked for approval from Jen Ai's Doctor-in-Chief Lin Chih-nan (林致男). \nHowever, Lin and neurological surgeon Liu Chi-hwa (劉奇樺) decided to try to send Chiu to a nearby hospital because they believed that Jen Ai did not have the available staff and equipment to help Chiu. In addition, there was no bed was available for Chiu at the time. \nChiu was then referred to Tung General Hospital in Taichung County, which is approximately 150km away and two to three hours' drive from Taipei City. \nAs of press time yesterday, Chiu was still in a coma in an intensive care unit. \n"I asked Lee to refer Chiu to a nearby hospital because all of our equipment and neurological surgeons were occupied, so it was impossible for us to take good care of her," Lin said. "However, it surprised me as well that the `nearby hospital' turned out to be Tung General Hospital in Taichung." \nAt the press conference yesterday, Ma said that the city government is supposed to take care of Taipei citizens no matter what. \n"I am not a doctor, so it would be improper for me to comment on a medical decision like this," Ma said. "However, as a mayor and a Taipei citizen, I believe that the city government is obliged to take care of its own citizens no matter what." \nLater last night, at around 7pm, under the lead of the Taipei City Government's department of health director Chang Heng (張珩), Liu and Lin offered an apology to the general public for the incident.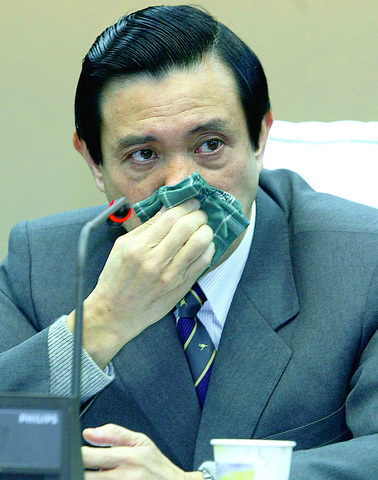 Taipei City Mayor Ma Ying-jeou chokes and holds back tears yesterday while dicussing the crisis sparked when city hospital turned away a critically-injured child.
PHOTO: CNA
Comments will be moderated. Keep comments relevant to the article. Remarks containing abusive and obscene language, personal attacks of any kind or promotion will be removed and the user banned. Final decision will be at the discretion of the Taipei Times.