Top 10 Taiwan Stories: CWB alters rainfall policies
The Central Weather Bureau in September significantly revised its system to measure rainfall into a more precise one, which can offer residents more useful reference when they encounter unstable weather in Taiwan, which has a subtropical climate. \nFor the sake of disaster prevention, the bureau in the last two decades offered only two rainfall forecasts, including "heavy rain," which means more than 50mm of rain will be accumulated within 24 hours, and "severe storms" -- more than 130mm of rain within 24 hours. \nHowever, recent unusual weather, accompanied by devastating rainfalls triggering mudflows, landslides and flooding necessitated the addition of two new levels of rainfall above existing ones. \nAccording to the bureau's new system, the warning of "exceptional severe storm" will be issued to residents in certain areas if accumulative rainfall within 24 hours exceeding 200mm is expected. In addition, when accumulative rainfall within 24 hours exceeding 350mm is expected, a warning of "super severe storm" will be issued. \nMeanwhile, the Central Personnel Administration (CPA) added rainfall level as one of the reference factors for local governments to determine whether schools and businesses can have a day off when potential devastating heavy rains come. \nSchools and businesses in Taiwan are entitled to "natural disaster leave" when typhoons, earthquakes or flooding occur. Previously, however, local governments considered the strength of strong winds caused by typhoons as the only reference. The CPA's adjustment was made to respond to a controversy over the Joint College Entrance Examination that was held without giving a thought to examinees in certain areas as Tropical Storm Mindulle swept across the nation and caused floods in central and southern Taiwan in early July.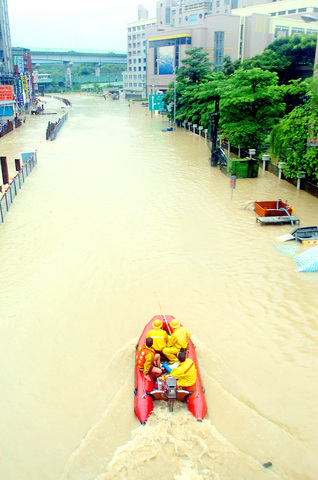 PHOTO: SEAN CHAO, TAIPEI TIMES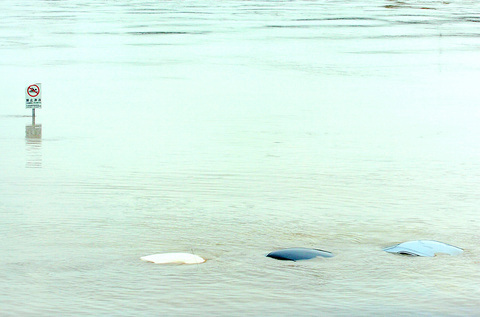 A rescue team searches through the streets of Taipei's Tunghu district on Sept. 11. Many areas of the city were flooded after days of heavy rainfall.
PHOTO: SEAN CHAO, TAIPEI TIMES
Comments will be moderated. Keep comments relevant to the article. Remarks containing abusive and obscene language, personal attacks of any kind or promotion will be removed and the user banned. Final decision will be at the discretion of the Taipei Times.