Ex-DPP head touts unification
U-TURN Running as an independent for the legislative elections, former DPP Chairman Hsu Hsin-liang said Taiwan has everything to gain by accepting ``one China''
Issues surrounding cross-strait relations made their way into the rhetoric of independent legislative candidates yesterday, with former Democratic Progressive Party chairman Hsu Hsin-liang (許信良) announcing his own vision for relations with China. \nSpeaking in the rain at his rally in Taipei yesterday, Hsu said that it is time that Taiwan proposed a new "one China" policy on its own terms and said that future Taiwanese and Chinese diplomatic relations should be modeled on a European Union (EU)-style partnership. \nA new "one-China principle," modeled after the EU, should follow four main principles, Hsu said. \nFirst, the status quo should be maintained with the institutional structures of the "Republic of China" intact. Second, the model will call for the establishment of a common cross-strait marketplace to facilitate the opening of airspace, financial markets and tourism between China and Taiwan. Third, an administrative mechanism would be established above the existing institutional structures on either side of the strait to jointly regulate the cross-strait economic marketplace. And fourth, an advisory body without legislative capacity will be created, called the "Chinese Parliament" to establish equal footing for negotiations between Taiwan and China. \nAn EU-style mechanism for cross-strait relations meets the country's needs for security and dignity and would let Taiwan take the initiative in shaping the future on its own terms, said Hsu yesterday. \n"Considering that [US Secretary of State] Colin Powell has reaffirmed the US' position of not supporting Taiwan's independence. Considering that the `one China' policy has been the cornerstone of US policy toward Taiwan; and considering Beijing's present stance that Taiwan accept `one China' as the precondition of any official cross-strait contact, it is likely that by 2006, Taiwan will be forced to accept a `one China' principle," Hsu warned yesterday. \nAdding to the controversy of his proposal, Hsu made his comments yesterday in front of a poster featuring his picture next to Deng Xiaoping (鄧小平), the late Chinese Communist Party leader who revolutionized the country's economy. \n"I greatly respect and admire Deng. Taiwan and China should not be at odds. We need to stop looking at the Chinese leadership as the enemy," said Hsu, adding that he hopes that the campaign poster will provoke thought. \nHsu, who heads the maverick political group the Taiwan Democracy School, made his proposal while campaigning in Taipei yesterday. He is one of seven candidates to whom the school has given its endorsement in the year-end legislative elections. Hsu is attempting to win a legislative seat in Taipei's southern district. \nAnother independent legislative candidate yesterday, Taipei City Councilor and Chinese Nationalist Party (KMT) Central Committee member Lin Chin-chang (林晉章), held a press conference yesterday announcing the establishment of a group called the Movement to Abandon the One China Policy Alliance yesterday. \nThe alliance will pressure the KMT into dropping its long-time adherence to a policy of unification with China, Lin said. Doing so is crucial at this time to help the KMT regain its former glory, he added.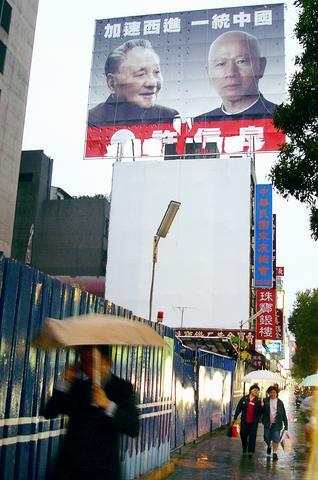 A campaign billboard for former DPP Chairman Hsu Hsin-liang looms over the intersection of Taipei City's Zhongxiao Rd and Fuxing Rd yesterday. The poster shows portraits of China's former president Deng Xiaoping, left, and Hsu, right, with the slogan, ``Go west; unify China.''
PHOTO: GEORGE TSORNG, TAIPEI TIMES
Comments will be moderated. Keep comments relevant to the article. Remarks containing abusive and obscene language, personal attacks of any kind or promotion will be removed and the user banned. Final decision will be at the discretion of the Taipei Times.