Taiwan fashion designers yet to make their mark
DESIGNS ON FAME Taiwan's fashion industry is torn between its cultural roots and its grand international ambitions
In the marble-coated shopping malls of Taipei, the store signs read like an A to Z of the world's most famous designers and labels: Armani, Chanel, Louis Vuitton, Prada, Zegna. \nBut despite rising interest from the West in the traditions and designs of the East -- Giorgio Armani visited China in April and is expected to visit Taiwan in January to promote a line of boutiques -- Taiwanese designers have yet to break into the top end of the fashion world. \nSome are wondering if they really want to. \nTaiwanese designers are simply walking on a different catwalk from Armani, said Jenny Chen (陳宜), editor-in-chief of fashion magazine Madame Figaro's local edition. \n"The top end is dominated by famous international brands, with domestic designers trying to make an impression lower down," Chen said. "Local office ladies cannot afford a Chanel ensemble, so the local designers all have their own faithful clientele." \nThe magazine writer, who studied design in New York, said diversity was the way forward for Taiwanese fashion designers. "When different types of fashions are available, people still will go and buy," Chen said. \n"Designers should not narrowly focus on purely oriental designs, any style is welcome," she added. \nBut others say Taiwan's fashion industry should still stick to its cultural roots if it wants to achieve overseas success. \n"Taiwanese designers can go on to the international scene by uniting East and West," fashion critic and Vogue columnist Rosalie Huang said. "The refined Oriental elements are the use of coloring and handicrafts." \nOne designer who is taking that lesson to heart is Fu Tzu-ching (傅子菁). Her embroidery-loaded designs even became the subject of an exhibition at a Taiwanese history museum. \n"Local fashionistas have traded their blind adoration of foreign brands for open-mindedness, with positive results for Taiwanese designers," Fu said. "Taiwanese consumers travel overseas now and can compare products, in the past they lacked information." \nAs she is stitching clothes in her studio decorated with Chinese artifacts, Fu is upbeat about the possibilities for local talent. "The young dare to try new things. There are no limits for new fashions," she said. \nFu is less interested in going international and taking on the major brands on their own terrain. She's planning a more modest step, moving into men's clothing. \nTaiwanese shoppers are echoing her optimism. \n"The quality and style of the clothes matter the most to me, but if the designer is Taiwanese, I will be more likely to buy it," said Veronica Wu, 33, an accountant looking for sweaters at the Taipei 101 shopping mall. \nDesigners Stephane Dou (竇騰璜) and Chang Lee Yugin (張李玉菁) say international fame for a Taiwanese designer will be difficult to achieve, but not impossible. \n"Director Ang Lee (李安) became a global star with his movie, so why can't the same success happen to a fashion designer," Dou said, referring to Lee's the Academy Award-winning Crouching Tiger, Hidden Dragon. \nThe island's designers need to show originality and creativity, Dou said, but he acknowledges the problems. "It's difficult to create something that has not been seen before," he said. \nBut Madame Figaro's Chen says Taiwanese designers shouldn't worry about their European counterparts, because fashion is a two-way street. \n"The Asian market is influencing Europe now, because Asians live by a faster rhythm, and are interested and curious about new trends," she said. \nArmani's visits to Shanghai and Hong Kong last April created a stir in the region. \nBut Chen believes that when Armani comes to Taiwan to promote his new boutiques next January, the vast majority of Taiwan's fashion world will feel trepidation and admiration, rather than fear.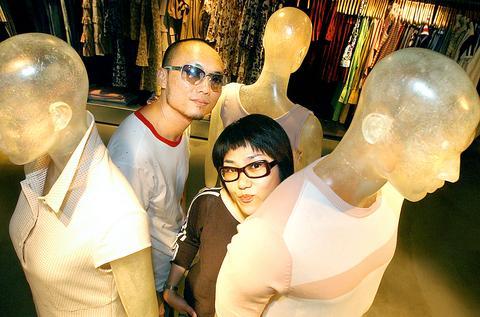 Taiwanese fashion designers, Stephane Dou, left, and Chang Lee Yugin, pose with a selection their work. Despite Taiwan being a major fashion hub in Asia with major label boutiques such as Armani, Chanel and Prada, but Taiwanese fashion designers have yet to break into the top end of the fashion world. And some are wondering if they really want to.
PHOTO: AP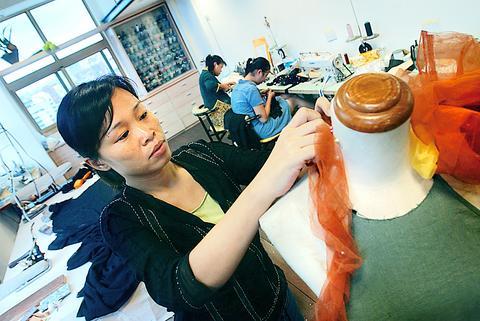 Taiwanese fashion designer Fu Tzu-ching, known for her embroidery-loaded designs, makes additions to a piece on a mannequin in her Taipei workspace.
PHOTO: AP
Comments will be moderated. Keep comments relevant to the article. Remarks containing abusive and obscene language, personal attacks of any kind or promotion will be removed and the user banned. Final decision will be at the discretion of the Taipei Times.