Confusion over Keyser deepens
UNANSWERED QUESTIONS A senior US diplomat is at the center of a long tale of international intrigue that has people scratching heads in Foggy Bottom and Taipei
A week after it broke, the Donald Keyser story still has the army of Taiwan and China experts and policymakers scratching their heads for answers to the many questions the case has raised. And it is likely to take until Oct. 13, when the preliminary hearing in the FBI's criminal complaint against Keyser takes place, for the answers to begin to become apparent. \nThe big question is why a person like Keyser, after more than 30 years of a superb career as a foreign officer would, according to the FBI's charges, allegedly break a major procedural rule for officials with a security clearance, and hold meetings that could be seen as questionable, even in the murky world of official US-Taiwan interaction. \nKeyser, 61, joined the state department in 1972, two years after he completed a stint as a student at the now-defunct Stanford Center of National Taiwan University (NTU). He attended NTU during a period when a whole generation of US Chinese-language students, who later became some of the most influential policymakers and academics of today, developed a favorable disposition toward Taiwan and the Taiwanese people on a very personal level. \nBasically, Keyser was charged in a criminal complaint filed Sept. 15 in a federal court in Virginia with failing to file an official report on a three-day trip to Taiwan in September last year. \nThe 10-page complaint also details a series of alleged meetings with two officers of the Taipei Economic and Cultural Representative Office in Washington between May and September of this year, although the complaint did not charge that the meetings violated any law. \nThe complaint did say, however, that the FBI is privy to more information, and hinted other charges may be brought in the future. \nKeyser has not spoken to the press since the charges were filed. A call to his home in suburban Virginia received a voice message saying the family is away from the house. \nThe complaint does not impute a motive to Keyser's actions. There is no indication he received any money from Taiwan's government, and the New York Times has reported that Keyser denied to associates that he received any financial compensation. \nNor does the complaint say that documents Keyser allegedly handed the two TECRO officers during more than one meeting, were secret, stolen, or represented the basis of spying charges. \nOne of the documents, seized by agents after the final meeting on Sept. 4, was a six-page document entitled "Discussion Topics -- September 4, 2004." At one earlier meeting, Keyser gave one TECRO officer a "white piece of paper." At another he gave a "folder." At a third he handed the two officers "letter-sized envelopes." \nPress reports have identified the two Taiwanese officials as Isabella Cheng (程念慈), 33, an officer of Taiwan's National Security Bureau (NSB), and her boss, Lieutenant General Huang Kuang-hsun (黃光勳), also of the NSB. Huang is believed to be TECRO's intelligence chief. \nPeppered through the complaint are statements that suggest that sex or romance were at the heart of the incidents. \nThe complaint says Keyser took the Sept. 3 to Sept. 6 2003 Taipei trip as a side hop after a major meeting in China the previous month. In Taipei, Keyser allegedly met Cheng, who flew to Taiwan a few days earlier. During the trip, the FBI says that Keyser made a US$570.01 purchase at Christian Dior Taiwan-II in Taipei. Cheng returned to Washington a day after Keyser. Keyser reportedly told neither his superiors nor his family about the Taiwan trip. \nThe meetings with Cheng and Huang took place after Keyser allegedly failed to report the trip on an official form he completed on May 1 this year to retain his Top Secret security clearance, which required him to list all foreign trips he had made. Nor did he report the trip during a subsequent security re-investigation. \nThese allegations were the basis of the FBI charges. \nKeyser's first meeting with Cheng mentioned by the FBI was on May 29 this year boarding a train for New York City, where they were seen together. The second was on July 23, when Keyser picked up Cheng at the TECRO building in Washington one evening and drove to a parking lot in suburban Rockville, Maryland near her home. An hour later he dropped her off at her home. \nIt was at about this time that Cheng was to marry Chris Cockel, the Washington correspondent of a Taiwanese newspaper -- the China Post, whom Cheng had known for several years in both Taiwan and Washington. It was also just one week before Keyser was to quit the department for retirement. \nThe FBI stated that Keyser "acknowledged" that the four later meetings, three of which included Huang, were called at Cheng's request. Those meetings occurred af-ter Keyser tendered his resignation. \nAside from questions raised about the relationship between Keyser and Cheng, the FBI affidavit raises questions of policy and procedure. The FBI quotes Assistant Secretary of State for East Asia, James Kelly, Keyser's boss, as saying "Keyser was not permitted to travel to Taiwan on official business because the United States and Taiwan do not have formal diplomatic Relations." \nYet only six weeks before the September trip, Keyser apparently flew from Tokyo to Taiwan on an officially-sanctioned trip. According to a Washington-based newsletter dealing with Asia, the Nelson Report, the US Embassy in Tokyo disclosed an official itinerary for Keyser on July 17 showing him leaving on China Air for Taipei. "He was clearly making no effort to conceal his trip," editor Chris Nelson said the embassy wrote. \nAnd, in the past US Cabinet members, including the secretaries of transportation and commerce, have traveled to Taipei to take part in bilateral economic meetings, and other senior US officials have made the trip for non-official purposes. \nAnother question is why Huang concealed his Sept. 4 encounter with the FBI from his superiors for more than a week. \nAccording to sources, Huang did not inform the newly-named de-facto ambassador, David Lee (李大維) , for 10 days, until the day before the FBI charges were filed in court. \nPremier Yu Shyi-kun told the Legislative Yuan last Friday that he was not informed until September 16, and sources say Foreign Minister Mark Chen (陳唐山) did not know about the affair until the same date. \nOne close Taiwan observer in Washington speculated that Huang or the NSB had initiated the contacts to open their own channel to the State Department, bypassing TECRO and the Foreign Ministry, especially in view of the rocky relations between Taipei and Washington this past year. \nIn fact, at one Washington event between the time of the FBI encounter and the court filing, Lee and other TECRO officials were asked about rumors that Keyser was next in line to become chairman of the American Institute in Taiwan in Washington, and they reacted in a way that showed they did not know about the Keyser affair. \nSome observers have questioned whether the FBI knew what they were doing or looking for when they began what was clearly an around-the-clock surveillance of Keyser starting this spring. \nThere is nothing in the law or in the mercurial rules governing US-Taiwan contacts that bar a senior State Department official from meeting with a TECRO official in a restaurant, where they presumably talk about the bilateral issues of the day, according to former US officials close to the process. \nAnd, a steady string of Taiwan legislators and officials of all levels come to Washington for meetings with US counterparts as high as National Security Advisor Condolleezza Rice, Deputy Secretary of State Richard Armitage and Deputy Defense Secretary Paul Wolfowitz. \nThe papers that Keyser allegedly showed Cheng and Huang were talking points, or what are known in the trade as "non-paper," which are present at many meetings. These, as one former foreign service officer who served in Beijing said, were intended to "make sure that when you said something, the other side knew what you were telling them," to avoid later misunderstanding or misquotation. \nThe FBI agents might not have been able to fathom the byzantine "rules" of US-Taiwan interaction made necessary by Taiwan's unofficial diplomatic status. \nThe "rules" are "complicated and diffuse," said one former US official close to the process. They change from administration to administration and are often "up to the official in charge, and his general sense of what is appropriate," he said. \nNevertheless, there appears to be a strict rule banning the concealment of travel to Taiwan from one's superiors.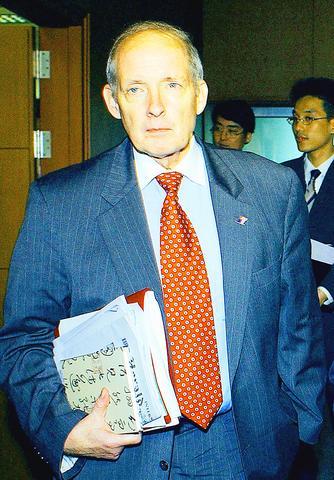 US State Department official Donald Keyser in this July 14, 2003 file photo upon his arrival at the US Foreign Ministry in Seoul, South Korea.
PHOTO: AP
Comments will be moderated. Keep comments relevant to the article. Remarks containing abusive and obscene language, personal attacks of any kind or promotion will be removed and the user banned. Final decision will be at the discretion of the Taipei Times.