Row erupts over local boy's stamp design
`MISUNDERSTANDING' China has been accused of interfering in the UN peace stamp competition, in which a design featuring the ROC flag was rejected
The UN Postal Administration (UNPA) has dismissed allegations that it succumbed to pressure from Beijing to abandon a Taiwanese boy's design that was thought to have been selected for printing in a competition to create a special postage stamp. \nIn addition to expressing its regret, the UNPA offered an explanation on its Web site about how designs were selected and what the "actual reasons" were which led to the "misunderstanding." \nThe UNPA said in a statement that it selected designs through its Stamp Advisory Committee, made up of 10 members from its New York, Geneva and Vienna offices. In this case, the committee shortlisted eight designs from the 24 merit award winners of the Lions Clubs International's competition to design a peace poster. \nOne of the eight shortlisted entrants was Yang Chih-yuan (楊智淵), a 15-year-old high school student from Taipei County. \nThe UNPA said that printed proofs were made in order to see all eight designs at stamp size so that the reproduction quality could be determined. The advisory committee selected six designs for the UNPA's Peace Stamps series, which is to be issued on Sept. 21. \nYang's design was not among the final six. \n"However, due to an internal misunderstanding and miscommunication, Mr. Yang's proof got publicized in error as one of the six stamps intended to be issued," the statement said. "This error was detected and hence a corrective broadcast has been made." \nThe statement contradicts local media reports, which claimed that Yang's painting had been selected to be circulated as a commemorative stamp, but was disqualified following objections from China. \nChina's protest was reportedly triggered by the national flag of Taiwan being shown in the boy's design. In the picture, two children are riding a dove, symbolizing the escape from war and progress toward a peaceful nation. The right side of the painting shows a scene of war, with homeless children crying amid looming tanks, while the left side shows a joyful earth painted in vivid colors. \nA spiral resembling a strand of DNA and comprising national flags winds around the dove. The ROC flag is among them. \nYang said that his painting was inspired by the Sept. 11 terrorist attacks in the US. \nFollowing the incident, the Ministry of Foreign Affairs issued a statement criticizing China's apparent intervention. \nThe Taiwan chapter of the Lions has conveyed its protest to the UN over the issue. \nThe chapter's lawyers have also been looking into the legal issues involved in authorizing the local circulation of Yang's design as a stamp. \nPostal authorities have suggested using Yang's painting on a stamp in Taiwan, pending authorization from the Lions Clubs International, which holds the copyright to the design. \nThe Presidential Office has also suggested that Yang's design be issued as a stamp. \nIf the authorization is granted, it will be the first design by a student to be published as a stamp in Taiwan. In the past, only the work of well-known artists has been used.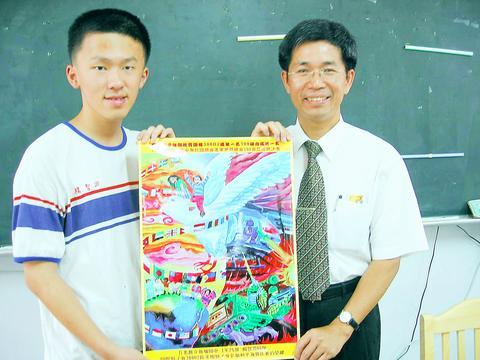 Yang Chih-yuan, left, and Pan Wen-chung, right, director of Taipei County's bureau of education, show Yang's design for a commemorative UN postage stamp yesterday. The drawing was one of eight shortlisted for publication.
PHOTO: HO YU-HUA, TAIPEI TIMES
Comments will be moderated. Keep comments relevant to the article. Remarks containing abusive and obscene language, personal attacks of any kind or promotion will be removed and the user banned. Final decision will be at the discretion of the Taipei Times.