Ministry shrugs off gripes about helicopter patrols
SILENT MAJORITY Most of the criticism of the Sun Yat-sen Freeway patrols is from scofflaws who don't like being reined in, a police official said yesterday
A traffic official yesterday downplayed negative reaction to the National Police Adminstration's new enforcement campaign on the Sun Yat-sen Freeway, saying that there has also been positive public feedback. \n"What have been reflected in media reports are mostly negative comments regarding this new enforcement plan, which aims to protect the rights of safe drivers," Chen You-chin (陳友新), director of the adminstrations's traffic division, said yesterday. "Responsible drivers who obey traffic regulations do not make much noise about this new plan. There is a good balance of positive and negative feedback from drivers at this point." \nThe adminstration's 24-hour, stricter enforcement campaign, which began Monday, levies a NT$3,000 fine for five different traffic offenses. \nChen said that by executing the new plan, the government also wishes to improve helicopter patrols, which are already used to provide assistance in the case of major crimes or accidents. \nMinister of the Interior Su Jia-chyuan (蘇嘉全) yesterday fended off criticisms over air patrols conducted along the freeway by stating that some technical adjustments will be made to increase public acceptance of the stricter traffic rules. \n"There are simply too many accidents taking place on that highway," Su said. "I don't think anyone will oppose the idea of a stricter traffic law enforcement plan. The details of the plan's execution can definitely be further discussed with related authorities and adjustments can be made." \nSu said that using helicopters to spot individual traffic violators might be an ideal strategy, but is not realistic. \n"Many people think that the helicopters are used to make arrests of drivers who violate traffic regulations," Su said. "But in reality, how can arrests be done in mid-air? Helicopters can tip off ground patrol about what is going on from an aerial perspective, but actual arrest from the air is not practical," said Su. \nSu explained that the main function of the air patrols is to provide real time traffic reports and aid in major crimes, accidents or other incidents on the road.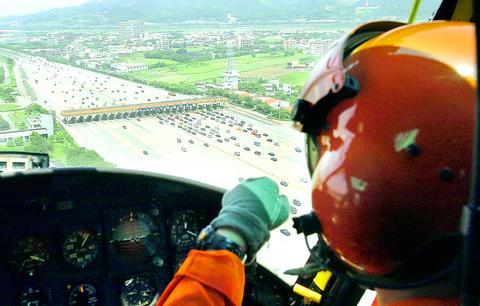 A police helicopter monitors traffic over one of the toll stations along the Sun Yat-sen Freeway yesterday as part of a new enforcement plan which, police claim, aims to protect the rights of safe drivers.
PHOTO: CHU PEI-TEH, TAIPEI TIMES
Comments will be moderated. Keep comments relevant to the article. Remarks containing abusive and obscene language, personal attacks of any kind or promotion will be removed and the user banned. Final decision will be at the discretion of the Taipei Times.