Tycoon is a wanted man
GONE Rumors have been flying that Tseng Cheng-jen paid NT$30 million to arrange an escape to China for himself and his pregnant wife. Prosecutors don't like it
Taichung tycoon Tseng Cheng-jen (曾正仁) was declared wanted by the Taichung District Prosecutors' Office on Thursday night after having been sentenced to 11 years in jail on June 8.
"Tseng's 11-year sentence was the court's decision. However, he disappeared on June 14 and failed to report to us to begin his sentence. So we have decided to announce that he is wanted and we have confiscated his NT$10 million bail," said Lee Ching-yi (李慶義), spokesman of the Taichung District Prosecutors' Office.
shanghai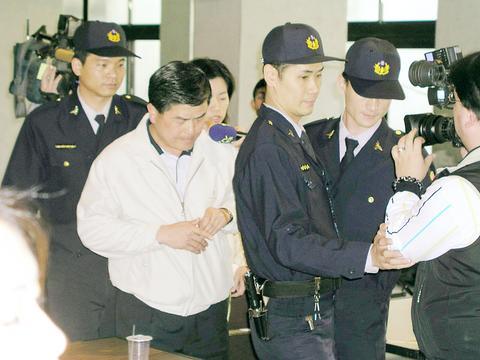 Tseng Cheng-jen, second left in this February photo, was declared a wanted man yesterday by the Taichung District Prosecutors' Office.
LIBERTY TIMES FILE PHOTO
A report circulated on the day Tseng disappeared said that he and his wife, who is five months pregnant, had fled to Shanghai, and that Tseng had paid NT$30 million to arrange the getaway.
Lee said that no evidence of this has been found in the prosecutors' investigation but that they are still trying to confirm it.
"We are trying to figure out whether Tseng has fled. We hope that the rumor is just a rumor and that Tseng will report instead of having to be arrested by either the Chinese authorities or us," Lee said.
chinese authorities
Asked whether prosecutors will seek the cooperation of Chinese authorities if Tseng really has fled to Shanghai, Lee declined to address the issue.
"We have always tried to work with them regarding crackdowns on crime and deporting criminals. But no guarantee has been made at this moment," Lee said.
Tseng, the president of Taichung's Kuangsan Enterprise Group, was sentenced on charges of violating the Securities Transaction Law (證券交易法), forgery and manipulating government officials to forge documents.
30 years
The Supreme Court's verdict was the result of Tseng's appeal of an initial Taiwan High Court verdict on Aug. 29 last year which sentenced him to 30 years and 10 months in prison on the same charges.
In 2001, Taichung prosecutors discovered that Tseng had, in November 1998, abused his position as the president of the Taichung Business Bank to push through loans worth more than NT$9 billion (US$265 million).
In addition, prosecutors also discovered that Tseng had embezzled NT$9.2 billion from Shuntayu, another subsidiary that he had acquired in 1996.
In the meantime, authorities say, Tseng stole another NT$7.8 billion from his own Kuangsan Group and used the money for personal investments in the stock market.
In the first instance, the Taichung District Court ruled that Tseng had used the embezzled money to purchase stock in Shuntayu in an attempt to boost the firm's share price.
janitors
Tseng also required his employees -- including janitors -- to keep dummy accounts for his illicit financial endeavors.
The court blasted Tseng for masterminding the series of financial irregularities.
Although Tseng had ample funds to cover the stock purchases, he eventually caused the 42 owners of the dummy accounts to face credit problems and lawsuits.
During the initial trial by the Taichung District Court, these 42 co-defendants were given jail terms ranging between four months and 11 years.
However, the High Court decided that the individuals in whose names dummy account were listed were innocent and cleared them of all charges.
Comments will be moderated. Keep comments relevant to the article. Remarks containing abusive and obscene language, personal attacks of any kind or promotion will be removed and the user banned. Final decision will be at the discretion of the Taipei Times.