`War hero' takes aim at politics
BLOOD AND GUTS Ko Chun-hsiung appeared in 1970s war pictures like `Everlasting Glory' and `800 Soldiers.' Now he wants to star for the KMT in the Legislative Yuan
Having featured in many war films in which he has brandished rifles and fired artillery, film actor Ko Chun-hsiung (柯俊雄) will face a real-life battle this December in which such weapons will be of no use to him.
Nominated by the Chinese Nationalist Party (KMT) on Friday to represent Hsinchu City, Ko will vie with political rivals for support from voters.
He will need to survive a war of words before he can make advances through enemy territory and storm into the Legislative Yuan.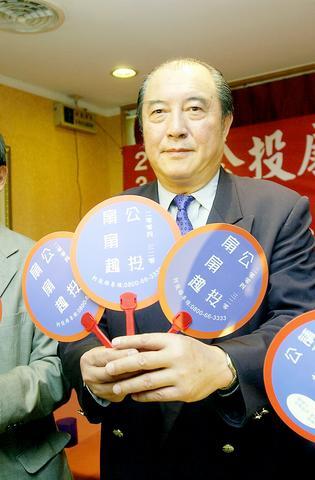 Veteran actor Ko Chun-hsiung, known from numerous 1970s war pictures, was nominated by the Chinese Nationalist Party (KMT) last Sunday to represent Hsinchu City in the year-end legislative elections.
TAIPEI TIMES FILE PHOTO
A veteran actor who has won Best Actor honors several times at the Golden Horse Awards and at the Asia-Pacific Film Festival, Ko, a political novice, surprised many last Sunday when he prevailed over KMT Legislator Chang Tsa-mei (張蔡美) in the party's primary process.
Ko garnered 1,119 votes, which accounted for almost 60 percent of the total vote, and received a 33.01 percent approval rating in the party's opinion poll.
Although Chang scored 41.49 percent in the opinion poll -- the highest approval rating among the five people seeking the party's nomination -- she drew only 148 votes in the primary.
Criticizing the primary process as unfair, Chang said that she would run in the year-end elections despite not gaining the KMT's nomination.
She also said she would quit the party and join the Alliance of Independent Lawmakers.
In response, Ko said that he had devoted a great deal of effort and time to the welfare of Hsinchu City and its people.
He also expressed hope that the elections would proceed smoothly and that the party would find a way to stay united.
Propaganda
Ko, born in 1945 in Kaohsiung, started his movie career in the early 1960s.
He is best known for the heroic characters he played in an array of war films in which he starred in the 1970s.
Many of the films were set against the backdrop of the World War II Pacific theater. Others amounted to anti-communist propaganda, including films such as Everlasting Glory (英烈千秋, 1974), 800 Heroes (八百壯士, 1975), Victory (梅花, 1975) and A Teacher of Great Soldiers (黃埔軍魂, 1977).
Ko's heroic image on the silver screen appears to be an advantage for his electoral ambitions.
"We have watched him, as a person and on screen, for so many years? He is just and reasonable, he can speak up for us," said a veteran serviceman surnamed Wang from Hsinchu City's Chuan-chun area.
"Chuan-chun" refers to the residential compound that was set up to house soldiers and their families when former president Chiang Kai-shek (蔣介石) brought his army to Taiwan in 1949.
Veterans' issues
Ko said that pursuing the welfare of veterans is the primary issue that prompted him to run in the year-end legislative elections.
"I am the chief advisor of the Republic of China Veterans Association," he said.
"I can't stand idly by anymore in view of the ruling administration's fooling around," said Ko, who has been a KMT member for more than four decades.
Saying that he had become good friends with many veterans because of his experience in filming "patriotic" movies, Ko criticized the government for not taking good care of former members of the military and said that his wish is to campaign to support the causes important to veterans.
Ko has already had to face accusations that he holds views sympathetic to China. In view of his having registered to run in Hong Kong's 1996 provisional legislative election, some have accused him of having a soft spot for China.
Responding to these charges, Ko noted that he had pulled out of the Hong Kong race.
"The third day after I registered [my candidacy,] they approached me about giving up my KMT membership and joining the Chinese Communist Party," Ko said.
"But I refused, and withdrew from the race," he said.
Ko said that he loved Taiwan and that the Hong Kong story had been used by political rivals to paint him with the pro-China brush. "I am not worried about being painted by political rival with `the red brush.' My loyalty to the country is beyond doubt," he said.
"It is not an issue," he said.
Comments will be moderated. Keep comments relevant to the article. Remarks containing abusive and obscene language, personal attacks of any kind or promotion will be removed and the user banned. Final decision will be at the discretion of the Taipei Times.