Big-cycle owners protest
OPEN ROADS The riders of heavy motorcycles rallied to advance their agenda of issues, including opening fast-traffic lanes and elevated highways to bikes
Some 1,000 owners of heavy motorcycles took to the streets in Taipei yesterday to push the government to open fast traffic lanes, expressways and elevated highways for use by bigger motorcycles.
The protest was organized by a national federation of heavy motorcycle manufacturers and dealerships to urge the government to pay more heed to the interests of heavy bike riders.
The demonstrators rode their motorcycles from the Taipei City Hall at one end of Jenai Road to the Presidential Office square at the other end of the road and later to the nearby Legislative Yuan.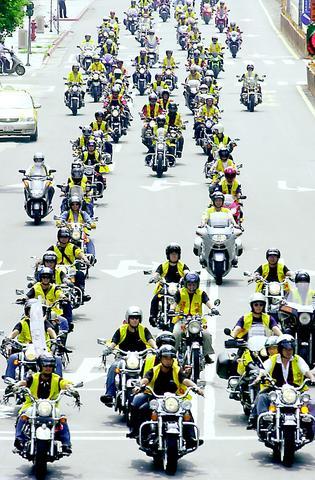 Hundreds of motorcycle riders brought their demands to the streets of Taipei yesterday in a rally to seek support for opening fast-traffic lanes on expressways, lowering license fees and canceling the two-stage left-turn requirement.
PHOTO: SEAN CHAO, TAIPEI TIMES
They also demanded that the license fees for heavy motorcycles be lowered in tandem with the rates for compact sedans and that the two-stage left turn requirement be canceled.
Protest organizers said the government has imposed many unfair restrictions on heavy motorcycles since it opened the door to imports more than two years ago in accordance with the nation's WTO accession terms.
"We hope these unfair treatments can be removed as early as possible," a spokesman said.
In response to the repeated petitions, the Ministry of Transportation and Communications said it will soon open Taipei's elevated Citizens Boulevard and the Yangmingshan-Chinshan Highway to big bikes on an experimental basis.
If all goes smoothly, the ministry said, it will open another seven roads in the future.
Meanwhile, the Ministry of Finance said it plans to lower motorcycle license fees by 50 percent or to adopt a sliding scale ranging from NT$1,000 to NT$7,480 for various sizes of motorcycles.
Comments will be moderated. Keep comments relevant to the article. Remarks containing abusive and obscene language, personal attacks of any kind or promotion will be removed and the user banned. Final decision will be at the discretion of the Taipei Times.