Taiwan Quick Take
■ Politics \nGet a plan, Ma told \nA People First Party (PFP) legislator yesterday urged Taipei City Mayor Ma Ying-jeou (馬英九) to take steps toward a future presidential run by proposing a concrete vision for Taiwan's future -- instead of appealing for sympathy about the difficult situation in which he finds himself. "Objectively speaking, Ma is without question the only hope for the pan-blue alliance," said Liu Wen-hsiung (劉文雄), PFP legislative caucus leader. "However, he must draw up a blueprint for ruling the country," Liu said. Liu said that the media has paid a lot of attention recently to Ma's so-called "combat staff," saying that Ma appears as if he likes to spend too much time talking about how much pressure his administration is under, which only seems to demonstrate a lack of will. "There are so many things that he could do, but so few thing he has done," Liu said. "Right now, focusing on the issue of organizing a `combat staff' makes Ma look like an opportunist," Liu said. "The future of the pan-blue camp must be based on a vision, not on how many people belong to anyone's team," Liu said, adding that the public will reach its own judgements about Ma's effectiveness -- especially while Legislative Yuan Speaker Wang Jin-pyng (王金平) is passing important laws in the legislature. \n■ Health \nQuitter wins \nHualien County resident Chang Chien-kuo (張建國) tasted something sweeter than cigarette smoke when he won NT$600,000 (US$17,910) yesterday in an annual "quit and win" contest. Officials of the John Tung Foundation, which sponsored the contest, said that 30,096 people took part in this year's contest. Chang was chosen as the top winner in a random computer draw. Chang, 33, who had puffed up to 50 cigarettes a day, said he made up his mind to quit after learning that his wife was pregnant early this year. Health Minister Chen Chien-jen (陳建仁) said more than half of Taiwan's people start smoking before age 18. \n■ Public Safety \nYouths join in Police Day \nKaohsiung County's police department celebrated Police Day yesterday with a series of activities that included participation by juvenile delinquents from a local reformatory school. More than 500 guests joined in the event's activities, which focused on performances by youths that included traditional dragon dancing, a street dance and a drum performance. In addition to honoring some 60 distinguished and veteran police officers, Kaohsiung County Magistrate Yang Chiu-hsing (楊秋興) urged the Kaohsiung County Police Department to introduce a more humane work schedule to reduce the level of stress faced by police officers. \n■ Animal husbandry \nDucks chanted at \nSome farmers play Buddhist chants to ducks to calm them down in the summer heat and make them lay more eggs, a television station reported yesterday. "Some duck farm owners in southern Taiwan are playing cassettes of Buddhist sutras to ducks to calm them down because ducks get agitated in hot weather," Chinese Television System (CTS) reported. "Playing Buddhist chants has also caused ducks to lay more eggs. The percentage of ducks laying eggs rises from 8 percent when no music is played to 10 percent when Buddhist music is played," CTS said." Also, the ducks lay more double-yolk eggs," the station said. Many Taiwanese farmers play music to make cows produce more milk, while some pig farmers play music to make pigs grow.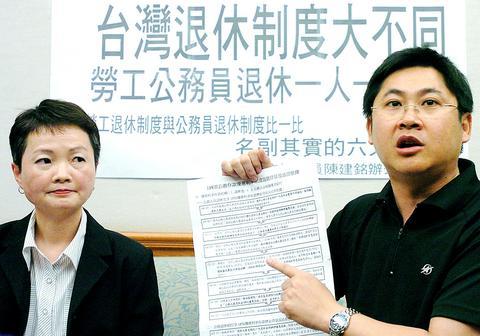 Chen Chien-ming, right, Taiwan Solidarity Union legislator, with Chiang Wen-chu, left, deputy director of the Civil Service Pensions and Retirement, claims that the pension system is unfair to workers at a press conference, yesterday. Chen said there is no legal foundation for the 18 percent bank interest rate enjoyed by retired public servants and teachers, and that the different retirement ages for public servants and workers are unfair.
PHOTO: CHU PEI-HSIUNG, TAIPEI TIMES
Comments will be moderated. Keep comments relevant to the article. Remarks containing abusive and obscene language, personal attacks of any kind or promotion will be removed and the user banned. Final decision will be at the discretion of the Taipei Times.