Sister Radio takes on the GIO
AUDIO ORGASMS The boss at the female-oriented media outlet believes that her station was fined because the morality police have antiquated views on sex and gender
The Taiwanese media is conservative when it comes to feminist and sexual identity issues, but change may be coming as a new generation of people comes of age, Sister Radio chair and founder Wang Li-ping (王麗萍) told the Taipei Times on Friday. \n"The media's conservatism reflects both government and social attitudes," she said. \nSister Radio (FM105.7), the nation's sole female-oriented broadcast media network, is battling a fine that the Government Information Office (GIO) imposed as the result of a recent show. The show, which featured audio of simulated orgasms -- and which was intended to debunk myths about gay sex -- was found by the GIO to be in violation of decency standards. The station has appealed the fine twice, and is waiting for a response from the GIO. \nWang, a former Democratic Progressive Party (DPP) legislator and women's rights activist, told the Taipei Times that the case shows that laws need updating. \nAccording to the Cable Radio and Television Law, as quoted in documents that the GIO review committee produced regarding the case, programming that runs counter to national policy or threatens the nation's reputation is not permissible. \n"How could our program threaten national policy? The current law is antiquated and was set in place by old men with power. The previous and current authorities have inflexible thought processes and attitudes about sexual desire and about presenting information on sex. There needs to be public discussion to change the law," Wang said. \nWang said she believes that the GIO suppresses information about controversial sexual and gender issues and doesn't take context into account. \n"The host of the show was using the sounds to provide information about an important but rarely discussed issue -- what's normal in lesbian sex -- not to turn people on," Wang said. \n"Sister Radio encourages discussion of sexual issues, clears up misconceptions and provides facts. The GIO shouldn't be attacking us; it should support us," she said. \n"From this case, you know that the authorities are secretly afraid of open discussion about sex. But when you look at the younger generation, they have more open sexual attitudes. We need to have frank sexual education. Our culture is dealing with greater economic, sexual and individual freedoms by ignoring them. At Sister Radio we feel that you should acknowledge reality and work with it," she said. \nWang expressed hope for changes in the GIO's attitudes. Because new GIO Director-general Lin Chia-lung (林佳龍) is part of the up-and-coming generation himself, Wang said, the GIO might become more tolerant. \n"Lin is younger than I am. I think that he will be more accepting of new social attitudes and will not think as restrictively as previous GIO heads. We look forward to communicating with him," Wang said. \nMedia outlets work hand in hand with the government in fostering the media's chilly attitude toward gender issues, Wang said. \n"The media has no experience with gender issues; they are gender-blind. So when there is news about such things, the media has the same reaction as the public and over-simplifies the discussion. They do not have the ability to do meaningful reporting," she said. \nWang said that she hoped that the media would eventually give gender issues the same emphasis and analytic reporting that other types of news merit. \n"Just as a news station may have a reporter who specifically covers a political party, media oulets should also have a gender issues beat," Wang suggested. \nWang admits that Sister Radio's ability to contribute to the evolution of the media is limited. \nSister Radio can't do much to change the attitudes of other media oulets, Wang said, but as the station's listenership increases, other media oulets may be alerted to the need to revise their approaches to gender issues. \nIn the meantime, though, the "sisters" at Sister Radio will continue making noise. \n"While we try to resolve this issue, we are going to continue to challenge the authorities. Sister Radio supports and respects differences, but there is no room for differences in the way the law is applied. We will continue our efforts," Wang said.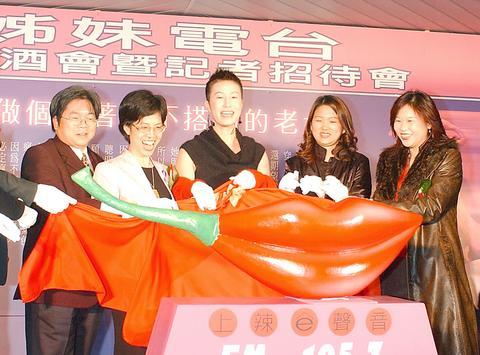 Sister Radio chair and founder Wang Li-ping, center, displays an object meant to look like lips and a hot pepper at a press conference in Taipei in March of last year. The object was meant to represent the hot topics, such as lesbian sexuality, that are discussed on the station's programs.
TAIPEI TIMES FILE PHOTO
Comments will be moderated. Keep comments relevant to the article. Remarks containing abusive and obscene language, personal attacks of any kind or promotion will be removed and the user banned. Final decision will be at the discretion of the Taipei Times.