ROCSAT-2 gets off the ground
FINALLY From a US air force base, a second Taiwanese satellite was propelled into space, though the craft's orbit turned out to be 14km higher than was expected
ROCSAT-2, the second satellite that Taiwan has put into space, was launched yesterday in California at 1:47am Taiwan time, making the nation not only a satellite-image exporter but also a leader in the hot field of upper-atmospheric lightning research, the National Science Council said yesterday. \nCelebrating the event at the headquarters of the council's National Space Program Office (NSPO) in Hsinchu -- and viewing real-time images from the launch site at Vandenberg Air Force Base -- were Wei Che-ho (魏哲和), who recently resigned as minister of the council, and Lee Luo-chuan (李羅權), director of the NSPO. \nAn improved Taurus launch vehicle operated by US Orbital Sciences Corp (OSC) -- bearing Taiwan's national flag and the imprint of the ROCSAT-2 mission -- lifted the 750kg satellite into space. Eighty-four seconds after liftoff, the launch vehicle's Stage Zero rocket had finished burning, creating a white air-current tail. \nAccording to data sent back from the launch vehicle, ROCSAT-2 and the rocket separated 15 minutes after liftoff, at which point the satellite went into its temporary orbit 737km above the Earth -- 14km higher than expected. \nSeventy-four minutes after the launch, ROCSAT-2 completed its first telemetry feedback to a ground-support station in Kiruna, Sweden. \n"The successful liftoff demonstrates Taiwan's potential to upgrade its space industry," Wei said. \nIn the future, we are confident that domestic firms will be able to replace foreign companies and become major contractors for satellite projects," Wei said. \nThe satellite project, which cost NT$4.7 billion (US$142 million), was designed and built by the NSPO in collaboration with Astrium Co of France. \nThe project got under way in 2000. \nAt 8:25am yesterday, after the satellite's fourth orbit around the globe, it made contact with Taiwan for the first time, sending information to a receiving station in Chungli. \nAll information was transferred to NSPO headquarters in Hsinchu, allowing scientists at the NSPO's Mission Operation Center to perform a series of checks on the satellite's operations. \nNSPO officials said that the satellite would be transferred to a higher orbit at 891km. \nAll tests on the satellite's functions will be completed within about a month. After that, the craft will begin a 5-year remote-sensing observation project and an investigation of upper-atmospheric lightning. \n"Now, Taiwan will be an exporter of satellite images and a key player in investigating the mysterious phenomenon of upper-atmospheric lightning," Lee said. \nPresident Chen Shui-bian (陳水扁), along with new NSC Minister Wu Mao-kung (吳茂昆), kept abreast of developments at the Presidential Office through a real-time information transfer network. \n"The successful liftoff is a great gift that the team has presented to Taiwan's people," Chen said. \nHappiness about the launch was shared by those who had traveled to the US to observe it. \nShieh Ching-jyh (謝清志), the council's deputy minister, observed the liftoff at the launch site along with key members of the project team, hundreds of overseas Taiwanese and Chinese Nationalist Party (KMT) Legislator Chang Chang-tsai (張昌財). \nShieh told the Taipei Times yesterday from California that the ROCSAT-2 team had been criticized too much for a series of delays that had delayed previous launch attempts. \n"Responsible engineers have to discover potential problems and fix them to ensure a successful mission," Shieh said. \n"We've been doing this for a long time," Shieh said.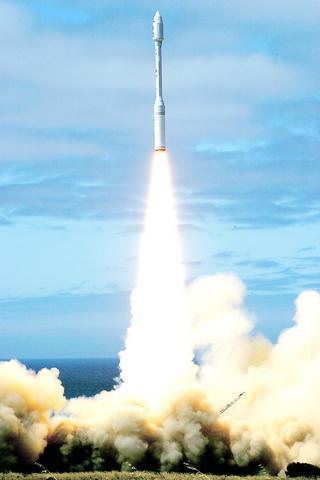 ROCSAT-2, the second satellite that Taiwan has sent into space, blasts into orbit from Vandenberg Air Force Base in California at 1:47am Taiwan time, yesterday.
PHOTO: CNA
Comments will be moderated. Keep comments relevant to the article. Remarks containing abusive and obscene language, personal attacks of any kind or promotion will be removed and the user banned. Final decision will be at the discretion of the Taipei Times.