Doctors give the gory details on Chen
LACERATION WOUND Medical personnel at the Chi Mei Medical Center in Tainan yesterday gave a blow-by-blow account of the president's injury and treatment
Doctors at the Chi Mei Medical Center in Tainan said yesterday afternoon that both President Chen Shui-bian (陳水扁) and Vice President Annette Lu (呂秀連) were in stable condition after yesterday's shooting, with Chen sustaining a laceration wound to his lower abdomen and Lu a wound to her right kneecap.
"President Chen's wound was 11cm long and 2cm wide. The wound ran horizontally across his lower abdominal region and was 2 cm deep," said Chi Mei Medical Center superintendent Steve Chan (詹啟賢).
Chan said that Chen's wound had been disinfected and that contaminated tissue was removed before he was given 32 stitches. Chan said that Chen had not sustained any internal injuries and that the wound had only reached tissue just under the skin.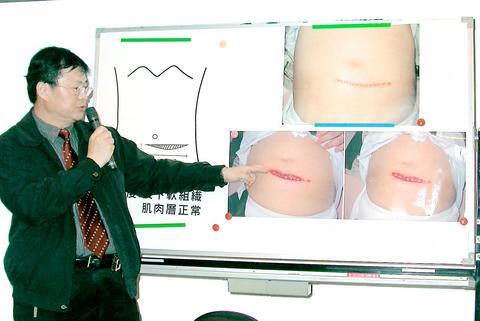 President Chen Shui-bian's medical team member Dr Chien Hsiung-fei gives an account of his injury and treatment yesterday.
PHOTO: WANG YU-TING, LIBERTY TIMES
Chan also said that Lu had sustained a 2cm external wound on her right kneecap and that she received local anesthesia. No foreign matter was found in Lu's wound.
Both Chen and Lu left the hospital at around 7pm yesterday evening, bound for Taipei.
X-rays and computerized tomography scans (CT scans) that Chen underwent after his wound had been treated revealed that metallic material, identified as part of a bullet, was deposited between his body and his jacket in his lower back area.
Hospital officials explained that damage to Chen's jacket indicated that a bullet had penetrated from Chen's right and exited on his left.
Chan said that Chen had walked into the medical center under his own power at around 2pm yesterday and that an initial examination showed his vital signs to be stable. His blood pressure was 142 over 74, his pulse was 84 beats per minute and he was breathing at a rate at 22 breaths per minute. Despite his stable vital signs, Chen was treated in the hospital's intensive care unit.
According to Chan, Chen informed doctors that at the time of the shooting he heard a sound but at first did not realize that he had been injured. A little while later, he began to feel pain in his abdominal area.
The medical team that was traveling with Chen sent him to the hospital after noticing that he was bleeding.
Center officials said that Chen's condition would remain stable as long his wound did not become infected. Chen was prescribed antibiotics in order to prevent infection.
Hospital authorities said that Chen's jacket, the bullet and other items that might be relevant to the police's investigation into the matter would be handed over to appropriate authorities.
Chan said that Chen appeared calm and alert.
Upon entering the hospital, Chen spoke with first lady Wu Shu-chen (吳淑珍) by telephone, and also spoke with Secretary General to the Presidential Office Chiou I-jen (邱義仁).
National Taiwan University Hospital spokesperson Lin Ho-shing (林鶴雄) said that the hospital's emergency contingency committee had held a meeting upon learning of the shooting.
He said that the hospital was on standby yesterday afternoon in the event that Chen had to be transfer-red there for treatment.
Comments will be moderated. Keep comments relevant to the article. Remarks containing abusive and obscene language, personal attacks of any kind or promotion will be removed and the user banned. Final decision will be at the discretion of the Taipei Times.