DPP confident of election victory
OPTIMISTIC The director of the DPP's Public Opinion Survey Center, Chen Chun-lin, yesterday predicted that President Chen Shui-bian will win by about 160,000 votes
The Democratic Progressive Party (DPP) yesterday said that President Chen Shui-bian (陳水扁) will win the presidential election by about 160,000 votes against the opposition pan-blue presidential ticket featuring Lien Chan (連戰) and James Soong (宋楚瑜).
Optimistic about the election, the director of the DPP's Public Opinion Survey Center, Chen Chun-lin (陳俊麟), yesterday estimated the DPP's Chen-Annette Lu (呂秀蓮) presidential ticket will win a total of 50.6 percent of the votes against 49.4 percent of the blue camp's Lien-Soong ticket.
"The DPP is expected to beat the Chinese Nationalist Party (KMT) and People First Party (PFP) alliance by 167,707 ballots, a 1.2 percent vote difference," Chen said yesterday.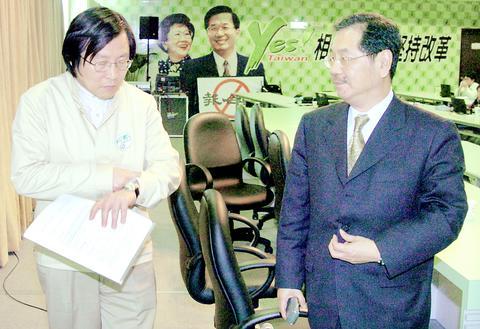 The Democratic Progressive Party's campaign executive director Chiou Yi-jen, left, and campaign spokesman Wu Nai-jen, right, exchange words as they leave a press conference yesterday.
PHOTO: CHEN TSEH-MING, TAIPEI TIMES
Chen estimated there would be an 80 percent voter turnout from among the nation's total of 16,504,179 eligible voters.
In the major six electoral districts around the nation, Chen said that the DPP would lose in northern Taiwan's Taipei City and Taipei County by 291,187 votes, as well as in the Taoyuan, Hsinchu and Miaoli areas by some 270,035 votes.
In central Taiwan's Taichung, Changhua and Nantou areas, the DPP is drawn in a tight match with the KMT and is estimated to lose by some 4,408 votes.
PHOTO: CHEN TSEH-MING, TAIPEI TIMES
However, in the DPP's stronghold in southern Taiwan, the party will win with an estimate of 467,722 votes over the pan-blue alliance in Yunlin, Chiayi and Tainan counties and by another 371,925 votes in the Kaohsiung and Pingtung areas.
As for eastern Taiwan's Ilan, Hualien and Taitung counties and the offshore islands, the DPP predicted that it would lose by about 106,309 votes against the blue alliance.
Regarding public support for the referendum, DPP campaign executive director Chiou I-jen (邱義仁) yesterday said that, according to an internal poll conducted by the party, some 55 percent of the public said they will pick up their referendum ballots. The poll by the Cabinet's Research, Development and Evaluation Commission said 59.1 percent of the public will vote in the referendum.
Chiou yesterday also disclosed that the KMT has tried to bribe voters in southern Taiwan by purchasing identification cards -- required personal IDs to cast votes, and promised free tours to voters on election day.
Comments will be moderated. Keep comments relevant to the article. Remarks containing abusive and obscene language, personal attacks of any kind or promotion will be removed and the user banned. Final decision will be at the discretion of the Taipei Times.