Kiribati president welcomed at grand ceremony
TIES Although he claimed to be unused to such pomp, President Anote Tong said the ceremony signified the special relations between the two countries
President Chen Shui-bian (陳水扁) yesterday welcomed President Anote Tong of Kiribati at a grand ceremony at Taipei's Chiang Kai-shek Memorial Hall, marking the first meeting of the two leaders since the two countries established diplomatic ties in November last year.
Tong arrived in Taipei on Monday night for a five-day visit. Accompanied by his wife and a group of high-ranking officials, Tong thanked Chen for his warm reception and said the ceremony signified "a historical moment" in the Taiwan-Kiribati relationship.
"President Tong and I have many things in common," Chen said, citing their Asian heritage, appointments of female vice presidents, similar ages and similar political experiences.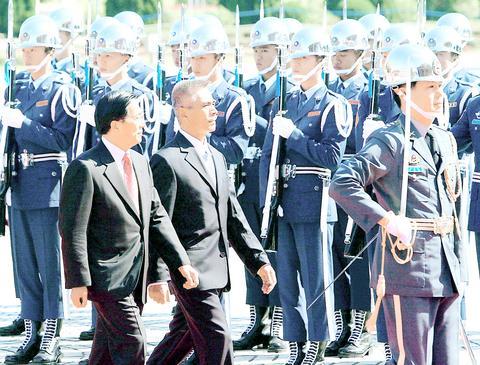 President Chen Shui-bian, left, gives Kiribati President Anote Tong a warm welcome at Taipei's Chiang Kai-shek Memorial Hall yesterday.
PHOTO: CNA
Kiribati is the first country to be added to the ranks of the nation's allies during Chen's presidency.
"President Tong is the first head of state to visit Taiwan this year. He brings to Taiwan bright sunshine upon his arrival, a good signal for the new year," Chen said, referring to yesterday's reappearance of the sun after weeks of cold and rain.
"Personally and frankly, I am not used to this kind of elaborate ceremony, but it signified the special relations between Taiwan and Kiribati," Tong said at an afternoon tea party with a group of reporters who had accompanied Minister of Foreign Affairs Eugene Chien's (簡又新) delegation to Kiribati in January.
Tong, who braved considerable pressure when he decided to switch his country's alliance from Beijing to Taipei, said that the economy was at the top of Kiribati's development agenda.
"Kiribati has very little to offer any country. What we can offer is our sincerity, our goodwill, and whatever else we might be able to provide -- certainly not much in material terms, because we are not a rich country," Tong said.
Kiribati's economic development is still very "basic," he said. "We sometimes question our ability to survive economically."
However, Tong said he earnestly wished that the Taiwan-Kiribati relationship would not just be a "one-way flow."
"I would like to think that we will have something to reciprocate with in some way," he said.
Kiribati has licensed many Tai-wanese fishing vessels operating in its waters. Citing fishery as one of Kiribati's most abundant resour-ces, Tong said he hoped to be able to draw investment to develop the fish processing industry in his country.
He said numerous employment opportunities would be created if the fish harvested in Kiribati's waters were also to be processed in his country.
Tong, who visited Taiwan as Kiribati's permanent secretary for natural resources in 1982, said he perceived substantial changes in Taipei since his previous visit.
He said the buildings had changed and that people now looked more active.
Tong said he has been keeping a close watch on developments surrounding Chen's proposed referendum, and described his Taiwanese counterpart as "a very impressive man indeed."
Chen is someone who is "not very difficult to approach. I have no doubt that he will do well in the forthcoming election," Tong said.
First lady Wu Shu-chen (吳淑珍), who had been scheduled to attend the welcoming ceremony, canceled at the last minute because of blood pressure problems.
She "suddenly felt very uncomfortable when preparing to leave home," Chen explained during the ceremony. "She had no choice but to cancel."
Comments will be moderated. Keep comments relevant to the article. Remarks containing abusive and obscene language, personal attacks of any kind or promotion will be removed and the user banned. Final decision will be at the discretion of the Taipei Times.