Taipei mirrors the great political rift
SPLIT OPINION Contrary to the international trend, voters in Taipei City tend to be staunchly conservative, while those in Taipei County are more progressive
The presidential campaign in the capital of Taiwan will be a battle between people upholding the idea of the Republic of China (ROC) and those who see Taiwan as their mother country, according to Lee Ming-yung (李敏勇), a political commentator.
"The results of the 2004 presidential election in Taipei City and Taipei County will mirror the split in political opinion that exists between people in southern counties and their counterparts in the north," Lee said.
Lee's observations are based on the history and culture of Taipei City and County, which accounted for a quarter of the electorate in the 2000 presidential election.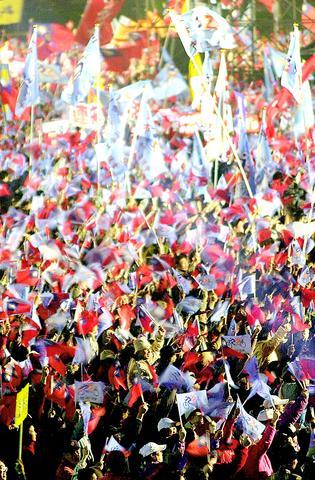 Supporters of KMT presidential candidate Lien Chan and PFP vice presidential candidate James Soong wave flags during a campaign meeting in Erchung in Taipei County yesterday.
PHOTO: YEH CHIH-MING, TAIPEI TIMES
In previous elections, the majority in Taipei City have voted in favor of the pan-blue alliance consisting of the Chinese Nationalist Party (KMT), People First Party (PFP) and the New Party.
The pan-blue advantage in the capital was revealed in the last presidential election. The results showed that 62 percent of the city's 2 million voters had voted for KMT presidential candidate Lien Chan (連戰) and the maverick candidate James Soong (宋楚瑜), while President Chen Shui-bian, (陳水扁), representing the Democratic Progressive Party (DPP), was supported by only 38 percent of voters in the capital.
The pan-blue camp also displayed its voting advantage in Taipei City with the victory of Ma Ying-jeou (馬英九) in the 1998 mayoral election. Ma was a dark horse representing the KMT and announced at the last minute that he would challenge Chen, who was then mayor.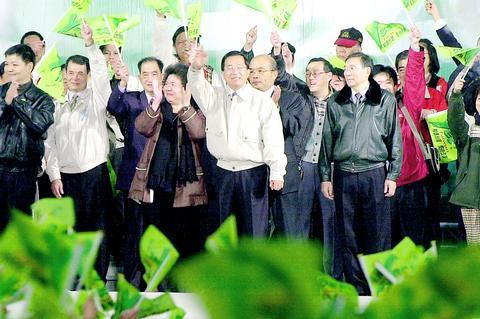 President Chen Shui-bian and DPP supporters wave flags during the founding of a campaign support group in Taipei County yesterday.
PHOTO: LUO PEI-TEH, TAIPEI TIMES
Despite polls showing wide support among city residents for Chen's efforts to improve the quality of life and administrative efficiency, 54 percent of the city's electorate voted for Ma as their next mayor, outnumbering the 46 percent who wanted to keep Chen for another term.
another defeat
In the legislative election that was held a year after Chen became president, the DPP suffered another defeat in the city. The DPP, along with its tiny pan-green ally the Taiwan Solidarity Union (TSU), garnered only 39 percent of votes cast in Taipei City, while their pan-blue rivals won 61 percent of the votes cast in the city.
The DPP absorbed a heavy blow in Taipei City last year when its mayoral hopeful, Lee Ying-yuan (李應元), failed to unseat Ma.
The KMT mayor won the support of 64 percent of voters to defeat his DPP challenger.
Lee believes that Taipei City voters are different from voters who live in the capitals of other countries.
"In `normal' countries," Lee said, "voters in the capital are more likely to oppose the conservative party and conservative politicians since they have had more contact with the international community and have more modern notions about democracy."
"But Taipei City is an exception to this rule, due to the fact that the city is home to 30 percent of the country's population of immigrants from China, and because of the historical influence of the ROC government on the city's development," he said.
Lee himself is registered to vote in Taipei City.
He believes that Taipei City's unique characteristics lead to its voting differently from neighboring Taipei County, whose voting patterns he characterizes as more cosmopolitan. Lee attributes this to the fact that Taipei County's population is comprised of people from elsewhere in Taiwan, along with people who grew up there.
A significant part of the city's electorate staunchly supports the pan-blue camp partly because a large number of them were once ROC government officials or government employees, and were educated under the KMT's educational system, Lee said.
He argues that it is therefore no surprise to see them support pan-blue candidates.
metropolitan
Compared to city voters, those in Taipei County are more diverse and metropolitan. Over half of the county's voters are immigrants from southern and central countries who moved to Taipei County for a better financial situation and job opportunities, Lee said.
Unlike city people, who are mostly civil servants or are involved in professions like banking, law and medicine, people who have immigrated to the county run small businesses or work as laborers. They are more connected with Taiwanese culture and have received fewer benefits from the ROC government structure, Lee said.
"That explains why the cities of Sangchung (三重) and Hsinchung (新莊) in Taipei County are the DPP's strongest areas in the county. Those areas are populated by immigrants from southern and central countries," Lee said.
According to a DPP official, the DPP will consider themselves successful in Taipei City if they can limit the margin by which they lose.
Legislator Shen Fu-hsiung (沈富雄), director-general of the DPP's presidential campaign in Taipei City, predicted that Chen would get about 45 percent of the votes cast in the city.
Shen said that Chen would get between 42 percent and 48 percent if the election took place tomorrow.
"I would say that getting about 45 percent in the city is nearly the limit for us," Shen said. "Chen himself could be the key, though, and allow us to win perhaps as much as 48 percent in the city."
Shen said that Taipei voters will be paying attention to Chen's actions and words in the days leading up to the vote.
"Before candidates waffle or change their positions during a campaign," Shen said, "they'd better be aware that the electorate in Taipei City always pays close attention before deciding whom to vote for. They take into consideration everything that candidates say."
Shen expressed concern about the president's emotional remarks at rallies in southern counties, where the DPP has enjoyed an advantage in previous elections.
His worry stems from the fact that people in the north see rallies in southern Taiwan on television, and that the president's passionate comments might not play well with voters in the capital.
"Chen must reach a balance between appealing for votes in the north and appealing for votes in the south. One of the principles he must operate on is that he can't upset 1 percent of the voters in the capital in order to gain 2 percent of the people in the south. Therefore he must be careful about what he says."
Shen said that he sees one group of voters as very important -- educated people from less developed regions who came to Taipei to study or work and have stayed for many years.
Shen said that the DPP's best strategy for increasing its support in Taipei City would be to appeal to these voters.
The DPP should be able to accomplish this objective if Chen can persuade these voters that he had brought improvements to the country, Shen said. If they believe that Chen is no different from the pan-blue presidential candidate, Shen said, these voters would either think twice before voting for Chen or simply not vote.
But PFP Legislator Pang Chien-kuo (龐建國) disagreed with Shen's viewpoint, saying he was confident that pan-blue presidential candidate Lien and his running mate James Soong (宋楚瑜) would outpoll Chen and his running mate, Vice President Annette Lu (呂秀蓮), in Taipei City by a "significant margin."
Pang said that the pan-blue camp would enjoy a large advantage in the southern part of Taipei City, which is home to many civil servants and descendants of immigrants from China.
Among the six administrative divisions in the south, the combined population of eligible voters in the two pan-blue strongholds -- Da-an (大安) and Wenshan (文山) District -- is equal to the number of voters residing in the other four divisions -- Zhongshan (中山), Zhongzheng (中正), Wanhua (萬華) and Datong (大同).
Pang said that the pan-blue alliance was confident of an overwhelming victory in this part of Taipei City, given that Soong won over 50 percent of the votes in the Wenshan District in the 2000 election.
Pang said that the pan-blue strength in the two most populous districts would be the basis of their success in the capital.
He acknowledged that Lien, on account of his split with former president Lee Teng-hui (李登輝), might lose some votes this time around that had come his way in 2000. "But the votes he loses will be limited in number, and the pan-blue's prospects in Taipei City are good. A lot of friends of mine are not going to vote for Chen in 2004 because they are disappointed with his performance."
"I believe that the number of people who will turn away from Chen will be much greater than the number who abandon Lien because of his split with Lee," Pang said.
Pang said that Ma is an important factor in the pan-blue camp's campaign in the capital.
He nevertheless suggested that Ma should do more to assist Lien and Soong to win more votes in Taipei County. "Now that it is unnecessary for the pan-blue camp to worry about the battle ground in Taipei City, Ma should do more to cultivate his popularity among the voters of Taipei County."
On the other hand, Shen said that Ma's popularity among the capital's voters would not really rub off on the Lien-Soong ticket, as they draw a distinction between the Lien-Soong team and Ma, while the presidential election is more comprehensive than a mayoral campaign.
TSU Legislator Chen Chien-ming (陳建銘), who represents a constituency in the northern part of Taipei City, agreed with Shen's view. He said voters were clear about the fact that Lien and Soong could not equal Ma.
He said Ma had been endeavoring to get closer to residents in the north of the city since his re-election.
Ma had worked hard at impro-ving the infrastructure of the region, which had been characterized as old communities that had traditionally been aligned with the DPP, Chen said.
He added that it would not be accurate to say that Ma had changed these residents' view of the former KMT government. Should Ma improve his reputation among these residents, Chen continued, he would only have won votes for a future presidential election of his own.
Chen said he was convinced that older voters in these areas can still remember the KMT's rule, which favored mainland immigrants living in the city.
"I am sure that they would separate their evaluation of Ma from the pan-blue presidential candidates with their KMT connections," he said.
Both the pan-green camp and their pan-blue challengers think that their side will win the majority of votes in Taipei County in the April election. Coincidentally, both camps have estimated that the ratio of votes among the county's 2.7 million voters would be 55 percent to 45 percent.
Consisting of 29 cities, urban townships and rural townships, Taipei County is the biggest electoral division in Taiwan with the highest number of people eligible to vote. The DPP has been in charge of Taipei County since 1989, when Legislator You Ching (尤清) defeated an obscure KMT candidate to win the DPP's first election in the county.
You was re-elected in 1993 after his KMT challenger failed to persuade voters that his party had no connection with money politics.
Su Tseng-chang (蘇貞昌) was elected County Commissioner in 1997 after a hard battle against KMT candidate Hsieh Shen-shan (謝深山). Su narrowly defeated Hsieh with a margin of 2 percent.
uphill battle
Su faced another uphill battle when striving for re-election in 2001. Su won his re-election by another narrow margin -- 874,495 Taipei County residents voted for him, while 820,808 people preferred the pan-blue candidate.
But Su said that the upcoming election could not be compared to previous campaigns, since they involved different candidates and a difference in timing.
As the chief commander of the DPP's presidential campaign in northern Taiwan, Su said he hoped the DPP could get 13 percent more votes in Taipei County to reach its goal of winning half the 2.7 million votes.
Tsai Hsien-hao (蔡憲浩), director of the DPP's Taipei County headquarters, said that the party wants to achieve this goal by applying a new election strategy and recruiting deserters from the pan-blue alliance.
The campaign in Taipei County would popularize the idea of giving Chen another four years to allow him to fulfill his vision of making Taiwan better, Tsai said, adding that this had been Su's main theme when he was re-elected in 2001.
The DPP would enlist the help of lawmakers and councilors to establish local campaign headquarters in each constituency. This is a new strategy for the DPP, whose policy of establishing local branches in previous elections had achieved very little success, according to Tsai.
Tsai was confident that his party would win the support of 55 percent of voters, as Lee has retained his influence among certain county voters.
He expects that half the voters who had supported Lien in the previous election would turn to Chen after relations between Lee and Lien had become soured.
In the 2000 presidential election, Lien won the endorsement of 22.37 percent of the county's electorate.
KMT Legislator Lee Chia-chin (李嘉進) said he thinks the majority of voters in Taipei County would prefer Lien to be the next president.
His confidence is based on vo-ting results in Chungho and Yungho, two cities with a high population density, and neighboring Hsintien, which is home to many retired KMT government representatives and officials. These three electoral districts represent the pan-blue camp's stronghold in Taiwan's biggest voting precinct.
Hailing from Yingge in Taipei County, Lee Chia-chin urged his comrades to strive for gaining votes in the areas where pan-green politicians currently enjoy the most support.
"A coalition formed by Mayor Ma, PFP whip Chou Hsi-wei (周錫瑋) from Panchiao and myself should help voters in these regions improve their impression of the pan-blue alliance when we walk into the crowd of people at local markets and talk to them to show our wholehearted hope of having their endorsement," he said.
"Mayor Ma should work at wooing voters in Taipei County rather than flying to different parts of the island if the KMT and PFP hopes to win next year's election in Taipei County," he said.
Comments will be moderated. Keep comments relevant to the article. Remarks containing abusive and obscene language, personal attacks of any kind or promotion will be removed and the user banned. Final decision will be at the discretion of the Taipei Times.